BART partners with location-based service Foursquare to encourage transit ridership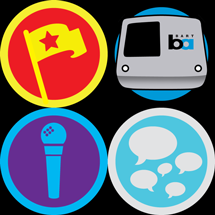 Icons for four Foursquare badges, including the BART-themed badge.
Bay Area Rapid Transit has become the first transit agency to partner with the location-based mobile network Foursquare, with the goal of encouraging public transit use.

Foursquare combines social networking elements with game mechanics, urging users to explore neighborhoods and recommend places to others. You can check in from different venues and earn badges and points for doing different types of things – like a "gym rat" badge if you check in 10 times at a gym during a 30-day period. As part of the partnership with BART, Foursquare will offer a BART-themed badge that can be unlocked by regular riders of BART, which provides train service in the San Francisco Bay Area. BART will award $25 promotional tickets each month for the next three months to riders chosen at random from all the riders who have logged Foursquare check-ins at BART stations, starting in November.

One popular element of Foursquare is a competition to become "mayor" of different places. If you check in more than anyone else, you claim rights as "the mayor" of that place. Regular BART riders already are trading back and forth as "mayors" of the 43 stations. Foursquare updates are shared across other social networking and microblogging sites such as Facebook and Twitter, announcing who has ousted whom as mayor. BART also will look at other ways to coordinate promotions with new and existing venue partners, through www.mybart.org, its free service offering contests and discounts for entertainment, sports and other events. BART is listing tips for things to do near BART stations on its Foursquare profile page (https://foursquare.com/p/sfbart/48281).

"A lot of BART riders are already having fun with this game," said Timothy Moore, BART website manager. "We hope this partnership will encourage them to check out different stations and neighborhoods, and will show people who aren't already BART riders some of the great things to do that are easy to get to on transit."
"We're excited about the potential for Foursquare to influence people's actions and decisions beyond things like entertainment, into broader areas, like taking public transit or getting involved in their communities," said Dennis Crowley, Foursquare's co-founder. Crowley announced the partnership at the Web 2.0 Summit in San Francisco on Thursday.
For more information on Foursquare go to foursquare.com.

Image: Icons for four different Foursquare badges. BART-themed badge design adapted with permission from iBART.