BART website provides real time Muni Metro arrivals for shared stations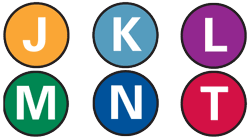 The BART website now provides real time SF Muni Metro arrivals for shared BART/Muni Metro stations in San Francisco, including Embarcadero, Montgomery, Powell, Civic Center, Glen Park and Balboa Park. The arrivals are convenietly listed next to BART ETAs on the main BART website and the mobile BART website (m.bart.gov).
On Saturday, the San Francisco Municipal Transportation Agency (SFMTA) released real time Muni arrivals to developers. BART is one of the first to use the new data feed.
"It's exciting to see another Bay Area transit agency open up real time data," said BART website manager, Timothy Moore. "BART and Muni are providing a model for how transit agencies can share real time data with the public and each other. I can't wait to see the innovations that result."
Since 2007, BART has provided free and open transit data to third-party developers, spawning dozens of innovative web and mobile applications for BART customers. BART's open data initiatives have served as an example for other innovative programs across the country including Data SF and the MassDot Developer's Page.