BART looks at possible seating choices for new train cars
Public will have a chance later to also check out seat mock-ups and provide feedback
By Melissa Jordan
BART Senior Web Producer

At a nondescript warehouse in Hayward, the seats inside a lone BART train car were getting a workout. But these weren't just any old seats.

There was a kaleidoscope of seats in all colors, shape, sizes and configurations, patched together from samples loaned to BART by other transit agencies around the nation. The purpose: a very early iteration of a "seating lab," where BART employees could check out different seat concepts, part of the extensive research and preparation that are going into BART's largest capital project ever, replacing the fleet of train cars. The fleet is nearing the end of its useful life and must be replaced. (Visit www.bart.gov/cars for more info on the train car replacement project.)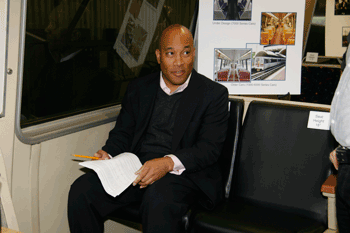 BART employee Roddrick Lee tries out a sample seat.
Lee is division manager of local government and community relations.

Seats, of course, are only one of the many considerations in the project to replace the fleet, but they are important to customers -- where the rear end meets the road, so to speak. That's why BART staff is starting early to think about different possible designs. Later in the process, mock-ups of seats will be open to the public, to do the same, and provide feedback. Can sitting in a mock-up really help a person understand what different seats are like?

Absolutely.

The seating lab shown to staff in January had examples of current BART seats -- which rank among the widest around the world. BART seats are 22 inches wide, for example, compared to 19 inches for the Paris Metro, 18 inches for the Washington Metro and Boston MBTA, and a skinny 17 inches for Los Angeles, one of the examples in the lab.

For comparison, in the lab you could plop into a possible future BART seat that was 20 inches wide. Sitting alone, it was hard to notice a difference. When another person sat down beside you, however, it was definitely more cozy. Not unbearable -- but noticeable. The point of such a tradeoff would be getting more capacity for people on trains -- the Metropolitan Transit Commission projects BART ridership will grow to more than 500,000 riders a day by 2035.

Even the tighter, 20-inch-wide, possible future BART seat felt luxurious compared with the 18-inch-wide, hard plastic seat example from Boston. Temperatures got to the 60s that day in Hayward, and the plastic seat was colder and harder. It didn't feel so bad, but a seating lab guide advised: "You might feel different if you had to sit on it for an hour," as many BART commuters do. This seating lab was also stationary; the hard plastic seat would feel more slippery on a moving train, or maybe more like an economy airline seat.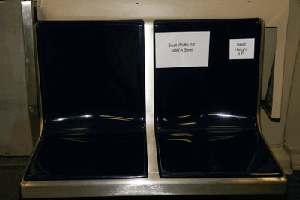 Example of seat from Boston's MBTA

It's all about tradeoffs -- safety, ease of maintenance and cleaning, comfort for customers, expense, durability. And that's just the seats! Can I live with a seat that's 2 inches narrower, to give more people overall the chance to get on the train comfortably? Can I live with some type of seat that's less cushiony -- maybe padded vinyl instead of fabric -- if it's easier to keep clean?

Then there's seat height, pitch and hip-to-knee space -- considerations not always front of mind for riders.

As a 5-foot-2-inch tall person, I had never really thought about seat height. BART's 16.5 inches fit me just fine. (They're among the lowest of its peers -- consider 17 inches in Boston, 18 in Washington and 19 in Vancouver.) I tried out some examples of higher seats, and didn't mind the dangly, feet-not-touching-the-ground feeling. It was pointed out that higher seats are more forgiving for taller people or those who have difficulty getting up and down.

Pitch, the distance between your seat and the seat in front of you, gets smaller when the seat back is thicker – another downside of that overstuffed, fluffy feel. What you sense as "legroom" is measured by the amount of space between where your hip hits the back of your seat, and the back of the seat in front of you, the hip-to-knee space. Right now BART's pitch (34 inches) and hip-to-knee space (29 inches) are, again, among the tops in the industry. But most transit systems are managing to get by with a little more scrunch (Washington's WMATA varies 30.12 - 30.26 inches in pitch, and is 25.75 inches in hip-to-knee space -- would BART riders who have ridden that system have noticed the difference?)

The seating lab had an example, to show pitch and hip-to-knee space, with two rows of seats where you could sit in the back, and the front row could be cranked back, inch by inch, to show you the feel of the tighter space. At 29 inches, there was room to spare, even with a briefcase in front of the knees. Then 28, 27, 26, 25.... gaahhh, feeling more like an airplane, even to a short person.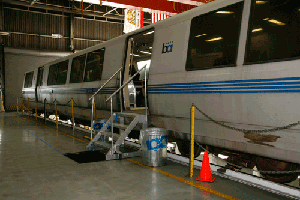 Exterior of seating lab

For some very early and initial feedback to project team members, the BART employees going through the lab filled out a questionnaire that will be analyzed as the effort goes forward -- the same as public feedback that will come later, when seat mock-ups are displayed for the public. You had to indicate what range of height, width and hip-to-knee space would be "acceptable" to you -- and then circle the exact number that "feels best". That kind of anecdotal feedback, from both employees and the public, will help guide decision-making. Whatever is ultimately chosen won't please everyone, but BART will take lots of effort to hear what the public thinks.

If you'd like to be informed of when the public seating mock-ups are available, or just get general news about the new train car project, visit www.bart.gov/alerts to sign up for email news. Visit www.bart.gov/cars to submit your feedback on the overall project.

Did you test out the first generation of BART train cars?
In the early days of the BART system, before train cars ever hit the rails, BART asked the public for input. On May 7, 1972, a public viewing of what would become the first BART train cars was conducted at the El Cerrito BART Station. The public got to tour the interior and platform areas and inspect one of the train cars. If you were there that day, we would like to hear from you, to help tell the historic story of the journey to a new generation of BART train cars.
Many people have vivid memories of early days of the BART system, since it is such an iconic part of the Bay Area. We would especially like to hear from those who came out to events to see the cars and stations before the official opening, before their first ride on an actual train. Other key dates you might have attended are:
May 21, 1972: Public viewing of the South Hayward BART system and a new train car
June 4, 1972: Public viewing of Bay Fair BART Station, including a caravan of antique train cars
June 10, 1972: Public viewing of Powell Street BART Station, after a special vehicle pushed a train through the Transbay Tube because the third rail was not yet energized
June 25, 1972: Public viewing of a new BART car at Union City BART Station
If you were involved at any of these pre-service events and have memories to share, please contact Melissa Jordan, BART Senior Web Producer, at webadmin@bart.gov.

All photographs by Karen McDaniel.