BART riders can get virtual commemorative token for new West Dublin/Pleasanton Station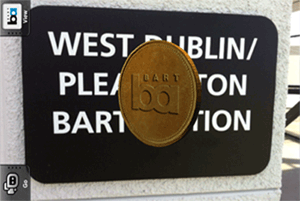 An example of what the token will look like when unlocked.
Visitors to BART's new West Dublin/Pleasanton Station, BART's 44th station that is opening on Feb. 19, can try a first-of-its-kind experience – using augmented reality technology to unlock a 3-D virtual commemorative token. The token is an outgrowth of BART's partnership with the junaio augmented reality platform and was developed by juniao-certified development firm Vitamin AR, based in San Francisco.

To collect the token, riders should download the free junaio application on their iPhone or Android phone, and in the main menu search for the channel "Station 44". Once the channel is running, they should direct their phones at wall-mounted wayfinding signs on the concourse level of the new station, such as "Exit to Dublin" or "Exit to Pleasanton," or "West Dublin/Pleasanton BART Station" (see example at right). Then, they'll be able to view a spinning 3-D model of a commemorative token, marked with the station opening date and "44," in recognition of the 44th station in the system. As with all mobile devices, users should exercise caution to be aware of their surroundings and only use their devices from a safe position without distractions.

Everyone who discovers the token through May 19 and completes the entry form on the BART website (clicking on the token will open up the mobile web browser) will be entered in a random drawing to win one of five free $25 BART tickets.

"This is the first new BART station of the decade so we wanted to try out something new," said Timothy Moore, BART website manager. "We're continually looking to serve customers in new and different ways. Whether that be on our website, with our developer initiatives, or in the mobile space, we want to give people an experience that is unique in transit. Augmented reality has a great deal of promise and this is just small example of what it can do."

Trak Lord, chief of production and founder of Vitamin AR, said, "We're thrilled to be working with BART on such a progressive project. We wanted to create an experience that would not only highlight the potential of mobile augmented reality, but also give Bay Area commuters a fun and interactive reward for visiting the new West Dublin/Pleasanton station."

BART already has a navigation-based channel on junaio that allows riders to access information such as directions to stations, points of interest nearby and real-time train arrivals.
Read more about the new West Dublin/Pleasanton station.