Regular BART service resumes through Concord Station
Updated: 4:01 am
Regular BART service has resumed through the Concord BART Station following a slow speed train derailment on Sun., March 13.
About the incident
The 8th and 9th car of a 10-car SFO-bound train derailed aound 9:20 am on Sunday outside Concord Station. The train was just leaving the station and was traveling at a low rate of speed. All cars remained upright during the incident. About 65 people were evacuated from the train. BART police officers were on the platform at the time and were able to assist in an orderly evacuation. In all, five BART police officers sprung into action along with the Train Operator. The Contra Costa County Fire Department was on the scene quickly. Although there were no immediate reports of injury, three subsequent reports of minor back injuries were reported to the Contra Costa County Fire Department.
BART started an investigation into the cause shortly after the incident occurred. Customers who were on the train at the time of the derailment were interviewed. Officials from the state Public Utilities Commission were on the scene as well as the District's Chief Engineer, Chief Transportation Officer, Chief Safety Officer, Assistant General Manager for Operations and other BART operations personnel. The re-railment process was underway by 2:00 pm. By about 3:45 pm the 10th car was moved away by a "high railer" and a crane was scheduled to come in and move other disabled cars so that we can conduct track repair. By 10:00 pm the 9th car was re-railed and work continued on the 8th car which was hoisted into place early in the morning.
How to receive breaking service updates from BART
For breaking BART service updates check service advisories on the BART website or the BART mobile website, sign up to receive service advisories by email at www.bart.gov/alerts or text "BART delays" to 468311 for on-demand service advisories via SMS.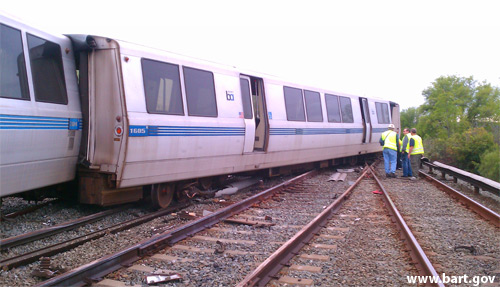 Slow speed derailment outside Concord BART Station Sun., Mar. 13, 2011. Source: BART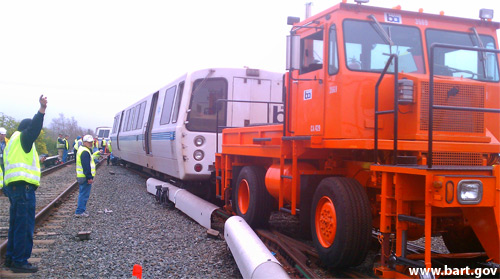 "High Railer" moves a disabled train. Source: BART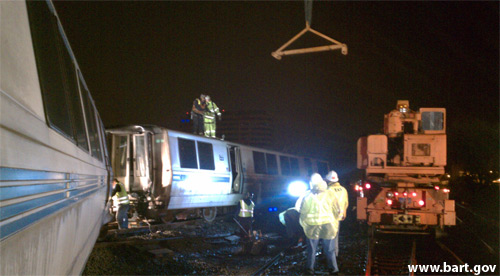 Preparing for the crane. Source: BART