SF Giants/BART highest-ridership mug and pin now available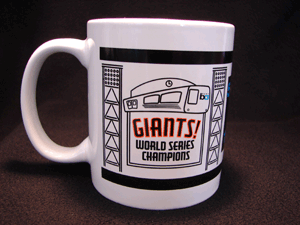 BART commemorative mug
Just in time for baseball season, you can buy a mug and pin commemorating BART's highest-ridership day ever -- the day of the San Francisco Giants World Series victory parade last November.
The mug features a sketch of the San Francisco skyline, a BART train and the total ridership number -- 522,198 -- for Nov. 3, 2010. The pin has the record number along with a baseball flying over an outline of the Bay Bridge. The mug is $7 and the pin is $4. There are three ways to buy them:

In person at:
The mytransitplus booth, Powell Street BART Station, Monday - Friday, 10 am - 7 pm
In person at:
The BART Customer Services Center, Lake Merritt BART Station, Monday - Friday, 7:30 am - 5pm. Phone (510) 464-7136.

Online at:
The BART online company store, where you can find other BART merchandise as well, from a mock turtleneck to plush toys to your very own BART belt buckle, massager, leather wallet or sport towels.