Check out Yerba Buena Gardens Festival, just a short walk from BART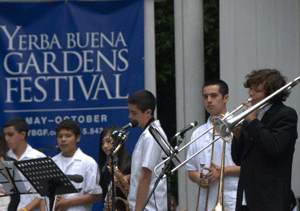 Latin Jazz Youth Ensemble
By STEFAN MARTINEZ
BART Website Intern
On Thursdays at 12:30 pm, San Francisco's Yerba Buena Gardens comes alive with music as part of the Yerba Buena Gardens Festival. Conveniently located two blocks away from the Powell or Montgomery BART stations, the Thursday Lunchtime Concert Series draws downtown professionals, tourists, moviegoers and anyone else within earshot. Spectators get a tasty morsel of jazz just long enough to start off their afternoon, or give them a quick break from work.

Jazz musicians from all over come to the gardens to play in the admission-free festival that starts in May and runs through October. In a single season over a hundred different acts will take place in the gardens, ranging from music and opera to poetry readings and dance lessons.

"I love music and dance and I love the performing arts. The festival is a great opportunity for us to showcase great artists that are internationally renowned like John Handy and Mads Tolling," Linda Lucero, Executive Director of The Yerba Buena Gardens Festival, said.

The Latin Jazz Youth Ensemble of San Francisco took to the stage for the July 14 week's concert. The sun came out as they struck up, and for an hour that seemed to roll on mercifully slowly they regaled their audience of picnickers, children's groups, elderly park strollers and snuggling couples. The musicians all had a certain youthful uniqueness to their style with a notable solo from a bongo player who was straight shredding for a whole 90 seconds in the middle of the concert.

By the end of the performance, audience members were on their feet dancing and would not let the musicians leave without an encore.

"The whole audience got into it and I felt more in tune with everybody," Mireya Leon, bassist for the Ensemble, said.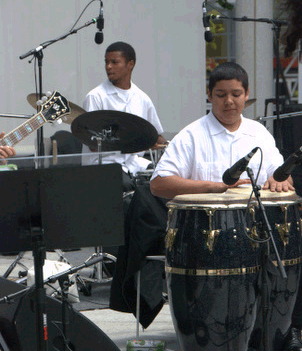 Latin Jazz Youth Ensemble
You could feel the laid back energy of relaxed fun that Latin Jazz creates. The festival strives to reach a norm of excellent and engaging music on a routine basis. "You can count on always hearing great jazz" attested Lucero, who added "I get charged when the audience gets charged."

BART promotes the festival as part of myBART, a leisure-destination program that finds all the coolest events and destinations for you to get to via BART, from sports to music to theater and more. Aside from the gardens, the Yerba Buena Center offers a variety of different attractions. According to Lucero, the gardens are at a "cultural crossroads", with places like the Contemporary Jewish Museum, SFMOMA and Museum of the African Diaspora among just a few of the nearby destinations. The wide range of other attractions includes the Metreon, the Zeum, the play structure, the carousel and the ice skating rink, making the center one of the best places to hang out in the city.

"It's beautiful out here, and a great place to meet friends and relax in the park," Lawrence McDonald, drummer for the Ensemble, said. This kind of setting is what makes San Francisco a truly wonderful city. We may not have consistent weather, but the combination of new, fun and exciting things to do in beguiling environments with a mix of relaxed uninhibited people, give every moment the potential to be a summer adventure. The Yerba Buena Gardens is one of many such settings, and as Lucero summarized, "with world class artists in a beautiful sight, and there's no two drink minimum. So go check out the artists for free, and BYO --- lunch."
Upcoming festival events include:

JULY
Words & Voices: Youth Speaks, Tuesday, July 19, 12:30-1:30pm
Claudia Gómez Trio, Thursday, July 21, 12:30-1:30pm
Schwabacher Summer Concert, Sunday, July 24, 2–4pm
Mexico: Cumbia Tokeson, Thursday, July 28, 12:30–1:30pm
Lord Loves a Working Man, Saturday, July 30, 1–2:30pm

AUGUST
Laura Inserra, Thursday, August 4, 12:30-1:30pm
AfroSolo' s Jazz in the Gardens, Saturday, August 6, 1–3pm
The Dunes, Thursday, August 11, 12:30-1:30pm
Pistahan, Saturday & Sunday, August 13 & 14, 11am–5pm
Words & Voices: TODCO Poets, Tuesday, August 16, 12:30–1:30pm
Teatro ZinZanni Orchestra, Thursday, August 18, 12:30-1:30pm
Brasil in the Gardens, Saturday, August 20, 1–3pm
San Francisco Mime Troupe, Sunday, August 21, 2pm, pre-show music at 1:30pm
Japan: Sawai Koto USA, Thursday, August 25, 12:30-1:30pm
Meklit Hadero, Saturday, August 27, 1 – 2:30pm
For a list of more events, visit http://www.ybgf.org/,
For other destinations around the Bay Area that are easily accessible by BART ,visit: http://www.mybart.org/.
To hear the ensemble play one of its own compositions and learn more about them, visit http://www.ljye.com/products.html.
Photos courtesy of Latin Jazz Youth Ensemble