From waiting tables to wearing tutus, BART Police volunteer for Special Olympics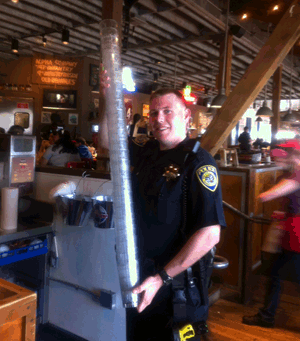 BART PD's Chris Vogan stacks cups at a Tip-A-Cop Night
By STEFAN MARTINEZ
BART Website Intern
The family of four that sat down at Max's Diner one recent Wednesday evening in San Ramon did not expect their waiter to be decked out in full law enforcement blue. It was Tip-A-Cop Night, when officers like Scott Hamilton of BART Police trade in their patrol cars and canines for drink trays and notebooks to donate their time for charity.
The main charity supported by BART Police is Special Olympics, the world's largest athletic organization for children and adults with intellectual disabilities. For many years BART Police officers have given dozens of volunteer hours per month to events like the Tip-A-Cop Night in San Ramon. Diners are encouraged to tip their regular servers and drop a little something extra in for Special Olympics.
"It gives us an opportunity to interact with the community in a positive way," Hamilton said. "It lets us recharge emotionally after all the bad stuff we have to deal with on a regular basis."
The first Special Olympics dates back to 1968, and the event has a history of law enforcement involvement. Police departments throughout the world raise money as part of The Law Enforcement Torch Run, started by the police chief of Wichita, Kansas, in 1981, when he and his officers noticed that the Special Olympics had no torch run. The program now raises some $34 million a year for Special Olympics.
Its continuation depends on the passion of law enforcement volunteers. "They have that work hard, play hard mentality," Wendy Shipley, development manager and law enforcement liaison for Special Olympics Northern California, said. "They go all-in."
The enthusiasm they put behind the torch run has spawned a number of other spinoff fundraising efforts. They do simple events like crab feeds and Tip-A-Cop nights, and more unorthodox events like the Tutu Ride, in which a bunch of cops raise money, and those who raise a thousand dollars or more get the honor of wearing bright pink tutus as they ride town to town on motorcycles. Another cult favorite is "the Polar Plunge," in which police officers jump into the cold waters of San Francisco Bay in varying full-body costumes, in exchange for donations. It's judged by volunteers with a lot of experience in costumes – drag performers known as sisters Volution, Eve and Kat N Leather.
"We do a lot of weird things to raise money," Shipley said. "They (the officers) are willing to do just about anything."
Christy Dodge, receptionist, athlete, and global messenger for Special Olympics Northern California, as well as a Polar Plunge team captain, recalled that Scott Hamilton is particularly invested.
"He's the best, energized, pumped up. It's incredible how much Scott does for us," she said.

"Once I got to know the athletes and what I was raising the money for, I was hooked," Hamilton said. As the assistant director of the Special Olympics Northern California Torch Run, Hamilton is deeply committed to the cause and volunteers about 15-20 hours a month for various fundraising efforts. But he's not alone. "There's a core group of about twenty of us that consistently go out to volunteer."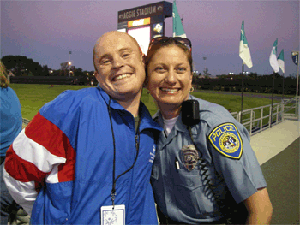 BART PD's Jennifer O'Connell with Special Olympics athlete
Jennifer O'Connell, Community Service Officer for BART PD, handles most of the force's involvement with fundraising events now that Hamilton is on the SONC board. O'Connell got involved much in the same way Hamilton did. "I saw how much they appreciated what we did, and it got me hooked," O'Connell said.
Asked about the nature of such an unusual fundraising event, Hamilton simply shrugged and echoed Shipley: "Any kind of fundraiser we can possibly do for Special Olympics we do … If you can dream it up, we'll try it".
BART PD has a reputation among the Torch Run community for its dedication.
"BART jumps in to help wherever anyone else needs it" Shipley said. BART PD had actually stepped in to help another police department put on the San Ramon Tip-A-Cop. Since BART Police don't have one single jurisdiction, but work in multiple cities and counties, they raise money throughout the communities BART serves. Their commitment to improving the community is in keeping with a mission statement that reads "Placing service above self, we work in partnership with the community, serving with pride, courage and compassion."
Volunteering is especially important in law enforcement's line of work, Hamilton said. "One of the hardest things is not being able to save everyone" Hamilton said. "I just try to do my best to help one person at a time and make society a better place."
Hamilton and O'Connell both mentioned that the hardest thing about working with Special Olympics is getting people to volunteer, but that everyone who does loves it.
There was obvious appreciation from diners on the night that Hamilton volunteered for Tip-A-Cop in San Ramon. One young girl took the crayons and drawing paper that the restaurant puts out to occupy kids at the tables and created a colorful hand-drawn note with hearts and stars: "Thanks for helping, BART PD!"
If you're interested in volunteering, find about more about opportunities at the Special Olympics Northern California website. (www.sonc.org)