Take BART to free First Tuesdays at downtown San Francisco museums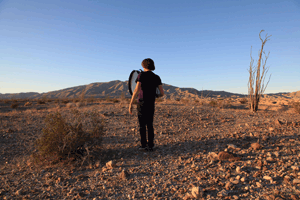 Photo: Richard T. Walker, The Speed and Eagerness of
Meaning. Courtesy of the artist and Christopher Grimes
Gallery, part of a current YBCA exhibt
By STEFAN MARTINEZ
BART Website Intern
Every first Tuesday of the month at noon, a magical thing happens in San Francisco: "free Tuesdays" at several downtown museums. Easily accessible from the Montgomery or Powell BART stations in downtown San Francisco, three of these museums are all on the same block: the Yerba Buena Center for the Arts, the Cartoon Art Museum, and the San Francisco Museum of Modern Art.
On these Tuesdays you get to experience all of the magic of the Cartoon Art Museum, the provocative exhibits of the Yerba Buena Center for the Arts and the raw beauty of the SFMOMA -- for none of the cost.
The Cartoon Art Museum will captivate your imagination with action shots of superheroes, everyday characters like Archie and the gang doing everyday things, and fun goofy pictures of quintessential cartoon characters, like that of the museum's familiar Mighty Mouse. The Cartoon Art Museum can be a fun and quick stop, or a leisurely study of an alternate, surreal, take on characters and people as we experience them.
Right across the street, the Yerba Buena Center for the Arts complements the cartoon museum, with a wider range of exhibits employing various artistic media that engage their audience's social, cultural or philosophical sensibilities.
"The art is very contemporary and accessible to audiences. It's all local, but from nationally and internationally recognized artists," Maureen Dixon, communications director of the center, said. The museum is currently running its sixth triennial Bay Area Now exhibit, in which it showcases the best local art the Bay Area has to offer.
According to Dixon, who grew up in San Francisco and remembers when more museums were free, "Free Tuesdays are a way of providing at least one day for everyone, whatever their circumstances to come out see some art that they might not otherwise be exposed to."
The SFMOMA features some of the most renowned artists of the world. Currently, the Stein collection of the Parisian avant-garde includes works by Picasso and Matisse. These are only a few of masterpieces in the cornucopia of art within the MOMA. Whatever you choose to view, it'll be anything but drab. Rebecca Xian, a tourist from Korea, offered this explanation why she appreciates art, " Whatever the artist's intent, I create my own understanding of the piece. The world is moving so fast now, but when I go into a museum and try to make these understandings, it gives me a break."
If you feel like you need a break from the hectic demands of society, or want to try something new, the three museums make for a very fun, cheap way to spend a Tuesday afternoon.

For more information on the exhibits of any of the museums you can go to their websites at:

http://www.sfmoma.org/exhib_events
http://www.ybca.org/
http://cartoonart.org/
For other fun things to do near BART, including listings of free events including some other free museum days, visit http://www.mybart.org/