Walk in the wild: New John Muir exhibit opens at Oakland Museum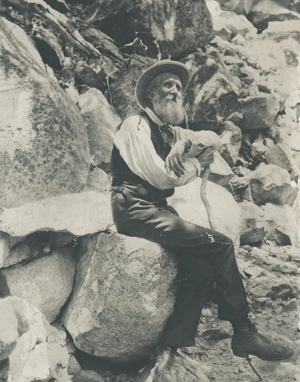 Photo of Muir courtesy OMCA
By STEFAN MARTINEZ
BART Website Intern
Right around the corner from the Lake Merritt BART station stands a building of intrinsic beauty, the Oakland Museum of California.
Maybe you remember the museum from a field trip you chaperoned, a childhood visit or a community event such as its annual Dia de los Muertos celebration. While the OMCA remains true to its legacy of family-friendly and highly educational exhibits, welcoming 40,000 students annually, it's not the same museum it was before 2010. A year and $62.2 million later in renovations, the OMCA is alive with a variety of different exciting exhibits. Chief curator of Natural Sciences Douglas Long says that new and old visitors alike will find the OMCA to be a "museum like none they've ever seen before -- their perception of an old museum in a new and vibrant way."
The exhibits cover the gamut: Social and historical issues such as a project documenting the political tumult of 1968, and an exhibit of photographs by Richard Misrach of the Oakland-Berkeley hills fires; cutting-edge artistic works like that of internationally acclaimed graphic novelist Daniel Clowes; and, in one of the most anticipated new projects, the largest exhibit to date on the life of pioneering naturalist John Muir, titled A Walk in the Wild.
These exhibits are the fruits of collaboration between the museum and the community. The museum prototyped the exhibits extensively, and has incorporated a lot of feedback in order to make them as engaging as possible. To this end the museum has implemented elements of lighting, flooring and sound for more interactive exhibits. In fact, an outside consulting firm found that visitors spend an average of twice as long per exhibit at the OMCA than they do at some other museums.
The upcoming John Muir exhibit, A Walk in the Wild, exemplifies the OMCA's renewed commitment to listening to the community and engaging its visitors. The exhibit will attest to "John Muir's legacy of respecting nature, protecting nature, and enjoying what we have," Douglas says.
Guest Curator for the exhibit, Doris Welch, says that she's been "inspired by Muir and his writings my entire life". Welch is excited at the opportunity to "bring in a large audience to show them the beauty and wonder of the Sierra Nevada".
The exhibit will feature "interactive exploratory installations through sound, sight, touch and smell," Welch said. It begins with breathtaking panoramas that draw the viewer in with their startling beauty and detail. It continues with spritzers of various striking scents Muir encountered in his travels, accompanied by a first-person narration of tenets central to his philosophy.
Visitors can enter a hollowed-out sequoia to watch a forest burn through a crack in the tree while smelling burnt embers, or jump over crevasses in "glaciers" on the floor, and even experience a simulation of Muir's trek up Yosemite Falls. These, along with loans of journals, manuscripts, and original drawings, make it the largest Muir exhibit ever. It will take the visitor through the different phases of Muir's life: his wonderment at California's beautiful and unique wildlife, his subsequent thirst for adventure, the scientific discovery it led him to, and the action he took in his later years to protect California's wildlife.
"One of the goals of the museum is to connect with the community and make itself relevant," Douglas says. "It's not just a museum but a way for elements of the community to interact _ sort of like a creative stew."
And its all right around the corner from BART.

VISITOR INFORMATION
Museum hours 11-5 Wednesday-Sunday. Open till 9 on Fridays.
Admission is: $12 general; $9 seniors and students , $6 youth ages 9 to 17, and free for Members and children 8 and under. OMCA offers onsite underground parking and is conveniently located one block from the Lake Merritt BART
station, on the corner of 10th Street and Oak Street.
A Walk in the Wild: Continuing John Muir's Journey opens at the Oakland Museum of California on Saturday, August 6, 2011, and continues through January 22, 2012.