BART Police help with Fruitvale cleanup and Halloween costume drive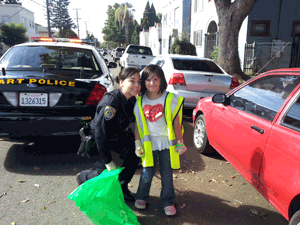 Officer Denise Gutierrez and her cleanup partner take a
break from picking up litter to pose for the camera
On Oct. 15, 2011, BART Police Department staff and BART Board Member Robert Raburn joined a community effort to help spruce up the Fruitvale area. Raburn, around a dozen BPD officers, neighborhood activist Luis Ortega and other volunteers from the City of Oakland pushed brooms and used cleaning equipment provided by Oakland Public Works Department to help Fruitvale residents create a cleaner community. BART Police also distributed more than 75 new and gently used donated Halloween costumes to joyful trick-or-treaters at the annual pre-Halloween block party.
"The simple act of volunteering to spruce up the streets helps to build a sense of community between BART and the neighborhoods we serve," Raburn said.
The costumes were all donated by BART Police Department staff, other BART employees and Bay Area residents who learned about the effort from Community Service Officer Lauren LaPlante, BART's Community Policing coordinator. LaPlante collected costume donations for children who attend the annual Fruitvale pre-Halloween party spearheaded by Ortega, who also organized this year's clean-up efforts. After experiencing the warm appreciation the kids showed to BPD officers in past Halloween parties, LaPlante was inspired to solicit the donations. "Typically, your child will outgrow his/her costume, so why not donate these 'preowned' costumes to kids who would really get a kick out of using them again?" LaPlante explained.
This is BPD's third year to volunteer at Fruitvale's celebration but the first year to pilot the costume giveaway. "In past years, the children expressed such happiness when we simply passed out candy, we thought we'd add a special treat by supplying costumes in time for Halloween," BART PD spokesperson Lt. David Chlebowski said. "We weren't disappointed. The children at the party were overjoyed to get these Halloween surprises—their expressions were priceless!"
BPD intends to continue the costume gathering effort as one of the many charitable efforts it participates in throughout the year.