Solar energy from parking lot canopy system to help power Lafayette BART Station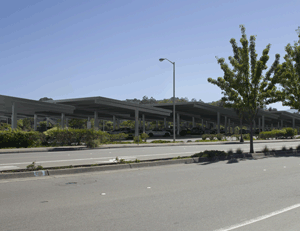 A rendering of what the Lafayette canopies could look like
A solar energy project is taking shape at the sun-drenched Lafayette BART Station -- the latest example of BART's commitment to sustainability.
The BART system already has the lowest greenhouse gas emissions per passenger of any large transit system in the nation, said BART Energy Division Manager Frank Schultz.
Now, a new solar canopy system over part of Lafayette Station's parking lot will capture the sun's rays to help power the lights, escalators and other electrical needs inside the station.

And there's another benefit -- the canopies expected by next year over some 350 parking spaces will provide shade for the cars.
SOLAR ENERGY ALREADY A SUCCESS AT BART MAINTENANCE SHOPS

Schultz said that other solar projects at BART's maintenance shops in Richmond and Hayward have been successful, so it was time to move on to a project at a station.

"The systems have worked well, they're reliable. We're ready to move on to a bigger project that our customers can see as a visible demonsrtation of sustainability," he said. Schultz said Layfette is a perfect location because it has great weather, no other development is planned and the community has welcomed the project.

"The community has been very supportive of the project," he said. "Lafayette has proven to be committed to a green and sustainable community."

BART is working with city leaders and community groups on design input; you can see a rendering of the Lafayette project and some exmaples of other designs in the images on this page. You can send any feedback on the project to Schultz at fschult@bart.gov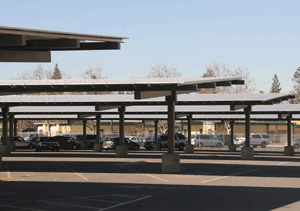 An example of similar canopies in San Jose
LIGHTBEAM ENERGY CEO EXPLAINS

James Lavelle is CEO of LightBeam Energy, the company managing the project. He explained:
"The solar panels will reside on the top of the canopies and provide shade for the customers when they park their cars, and in addition will generate solar power all day long," Lavelle said. "Renewable energy provides a way for us to use the sun and wind and steam from the earth and other naturally generated electricity sources so that we don't have to use fossil fuels and damage the environment."
CUSTOMERS LOOKING FORWARD TO BENEFITS

Customers we talked to waiting for their trains earlier this week said they were glad to see BART planning to use more solar power.
"It's really cool, definitely a way to save energy and make more of it," said Dave Bishop, a regular rider at Lafayette Station.

Hamid Shomali, another environmentally conscious rider who parks his hybrid vehicle at the station, said: 'It's wonderful -- anything that will reduce our dependence on foreign sources of energy." He said he also appreciated the effort being put into a design that suits the community. "It should add to the beauty of the Lafayette environment," he said.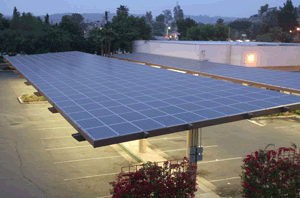 Nighttime view of similar canopies in city of Perris
Irene Johnston is new to the Bay Area and said she's thrilled to have mass transit as well as sunny weather. "I think it would be fabulous," she said of the solar canopies. "I would enjoy that -- plus it would protect my car!"
You can view a video version of this story on the BARTtv YouTube channel at www.youtube.com/BARTable.