BART rolls out new, easier-to-clean seats: 100 train cars to get a seat makeover
Today BART showcased its latest seats by rolling out a four-car train outfitted with brand new, easier-to-clean seats. The special train made a quick journey between the 19th Street and Montgomery Street stations and back, picking up passengers along the way.
CUSTOMERS SPOKE, BART LISTENED

"You spoke and BART listened," BART Board President John McPartland said. "Eighty-one percent of those who participated in last summer's Fleet of the Future 'Seat Labs' ranked cleanliness as 'very important' and when comparing vinyl, fabric and hard plastic seats, 62 percent of those surveyed rated the vinyl test seats as their favorite."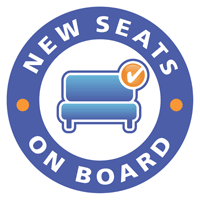 Decal to be on train cars with new seats
Rather than continue to replace damaged and worn seats with the existing hard-to-care-for wool fabric, the BART Board approved a switch to an alternative material that meets smoke, fire and toxicity standards. The seat makeover is an interim step before BART begins to replace its aging fleet and gives riders a taste of the new car experience.

In March BART began replacing existing wool seat assemblies in 100 cars with a brand new type of seat material. These train cars will be integrated into the existing fleet - a few cars at a time - until 100 cars are achieved.

Before BART purchases more seats, on-board surveys will be conducted to determine whether or not customers give the new material a thumbs up. The survey period is expected to run between April 21 and May 2. If results of these rider surveys are positive, BART will outfit up to an additional 100 cars with the new seat material. The results will also help BART design seats for its Fleet of the Future that will replace its oldest-in-the-nation fleet. The BART Board allocated $1,945,234 to replace seats in up to 200 train cars.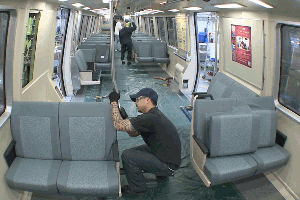 A worker installs new seats on a train
GET INVOLVED IN THE SEAT SURVEY

To identify the cars with new seats, passengers should look for exterior decals that say "New BART Seats on Board." When a BART survey taker is on-board one of these cars, they will be asking riders for feedback by filling out a survey form. The survey is available in English, Spanish, Chinese, Korean and Vietnamese. Customers can also email feedback to seats@bart.gov.

To learn more about the new seats, go to the New Seats FAQ.

To learn more about the Fleet of the Future project to replace BART's oldest-in-the-nation train cars, go to www.bart.gov/cars

To view a photo gallery showing the dismantling of old seats and installing of new ones on a train car, go to the SFBART blog.
Updated: April 16, 2011 02:24 pm