BART designing prototype escalator canopy to protect customers, employees and machinery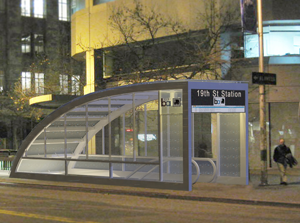 Artist's conception of escalator canopy
BART is in the design phase of a project to install a canopy over an entrance to 19th Street Station in Oakland in an effort to protect customers, employees and the escalators themselves.
"Our escalators take a beating from the weather and from people who don't use them for what they're intended, which is to transport people," said BART Board President Tom Radulovich. "The canopy in this pilot project is intended to not only protect the escalator, but to improve passenger and employee safety by providing better lighting at the entrance, the addition of security cameras and a way to close off the escalator stairwell when a station is closed."
The prototype canopy will be installed at the Broadway and 20th St. entrance to 19th Street Station. Current concepts call for a durable, transparent shelter which fits into the surrounding cityscape and incorporates environmentally sustainable features such as natural lighting and ventilation. The canopy is intended to not only provide a welcoming entryway into BART but to also extend the service life of the escalator, reduce repairs and improve reliability. BART has 179 escalators in its system; 56 connect the street to the stations' concourse levels.
Once the design for the prototype is complete later this summer, the project will go through the contract process. Construction could begin as early as next February and be completed about a year later. Lessons learned from the prototype would be applied to additional canopies if funding is available. The cost of developing and constructing the prototype is approximately $2 million.