A wish comes true: Boy rides BART for Make-A-Wish experience

By MELISSA JORDAN
BART Senior Web Producer
Austin James made a wish for something hundreds of thousands of people take for granted every day.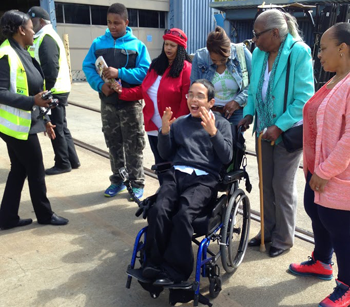 The 13-year-old boy from San Pablo, who has serious medical conditions and uses a wheelchair, longed to ride a BART train. "This is his joy,' said Virginia D. Thomas, who assists Austin at school, and is known to all as "Ms. Nisey" (pronounced "Neesy," a nickname for her middle name, Denise).
"When it's time for P.E. and we go on the basketball court he watches the BART trains go by and he counts the numbers of cars on the trains. He loves trains." (In photo at right, Austin arrives at the Richmond yard with friends and family members.)
MAKING DREAMS COME TRUE
The Make-A-Wish Foundation is well-known for its good works, granting wishes to children with life-threatening medical conditions, making dreams come true.
The wishes are often the stuff of childhood fantasy: going to Disneyland, meeting a sports idol, swimming with dolphins, riding a dogsled in the Iditarod.
Austin's wish was closer to home, and seemingly more ordinary.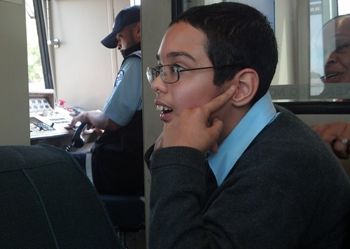 But the excitement and glee on his face as he boarded the train made it evident this was something very special. He clapped his hands, bounced up and down in his chair, and exclaimed in peals of delight.(In photo at right, Austin rides near the train operator's cab.)
NO ORDINARY DAY
"It's amazing because every child's wish is their own unique experience," said Theresa Clovicko, program manager at the Greater Bay Area Make-A-Wish Foundation.
On Thursday, July 17, Austin's wish became reality. (In photo below, Austin is pictured with his school aide, Ms. Nisey.)
With friends and family members, he arrived at BART's maintenance facility in Richmond. BART is close to his home -- so close he can hear the train's horns -- but he had never taken a ride, because of difficulties with his medical issues. He is sensitive to noise and crowds.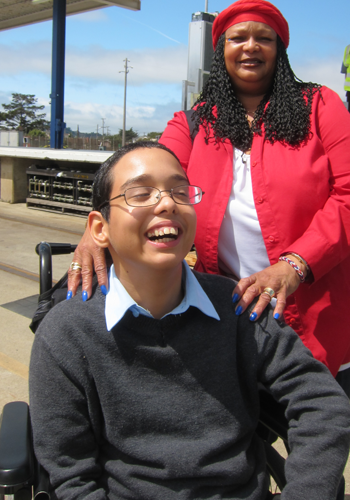 STAYING CLOSE
"His mom sees a lot of value in having this positive BART experience for him, where he is surrounded by people who are close to him and he can feel comfortable," Clavicko said. She said this is the first time the chapter has fulfilled a child's wish to ride on a BART train.
Joel James watched as her son Austin rode a specially built lift, donated for the occasion, onto the platform to board the train, which did not have regular-service passengers.
She explained that Austin was born with cerebral palsy, that she adopted him as an infant and that he had loved trains for as long as she could recall. He was so excited about the ride that the night before he could not stop talking about it and could not wait to get to the station, she said.
GIVING BACK WITH A LIFT
Austin's nurse, Anastasia Pipkin, and school aide Ms. Nisey, cheered him on as he wheeled down the train and up to the operator's cab.
There, the train operator explained to him how the train functioned and let him use the public address system to make announcements. The boy, who is often non-verbal, verbalized what most 13-year-olds might say: "Go faster!"
The trip was arranged through BART and Make-A-Wish so that an out-of-service train could be used to give Austin the safety and special conditions he needed for his wish. The special wheelchair lift was donated by General Contractor Martin Bruch.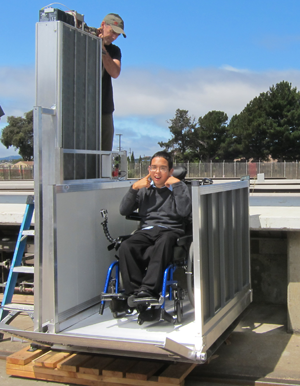 Bruch's son, who had leukemia several years ago and is now recovered, also was granted a wish through the Make-A-Wish Foundation (a trip to Kauai for his favorite shaved ice). "We're just really happy to do this to give back," Bruch said. (In photo at right, Bruch operates the lift for Austin to reach the shop platform.)
A DAY TO REMEMBER
After the ride to El Cerrito and back, Austin received a tour of the maintenance facility. BART Board Director Zakhary Mallett, who represents the district where Austin lives, and BART staff presented Austin with mementos of his trip, including a model BART train car set and a piece of a train wheel mounted onto a plaque. (In photo below, after the ride, Austin meets with his friends and family members.)
Ms. Nisey and the rest of Austin's family and friends thanked BART and Make-A-Wish for giving Austin this special opportunity.
"I could see it in his eyes, he was amazed," Ms. Nisey said. "He will never forget it … And I am just so proud. It made me have a teary eye. It was an amazing day and Austin loved it. He will never ever forget this."
Jen Wilson, marketing director for Make-A-Wish Greater Bay Area, said, "We grant wishes for children who have life-threatening medical conditions ... Anyone ... that's verified by their doctor, and who hasn't been granted a wish before by us or another wish-granting organization, automatically qualifies. So... we fulfill every wish that we receive and in the San Francisco Bay Area, we do roughly 350 a year, so almost one per day."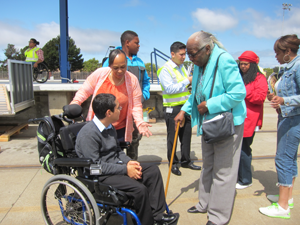 "It's amazing when you ask a child what their one true wish is," she said.
"For Austin, he just loves trains, he's always been fascinated by them, loves watching them go by his school," she said. "that's kind of what we help children figure out is if you could do anything what would that be, and sometimes we're really surprised by what it is that they.... they love and so, yeah we haven't had a list exactly like this before, but that's the great thing about kids is each one of them is unique and there's always going to be some part of the wish that's really truly magical tha they couldn't do on their own."
For more information on Make-A-Wish, including elibigility requirements and how to nominate a child, for wish fulfillment, visit: http://sf.wish.org/