BART teams up with Bike East Bay to prevent bike thefts
With more riders bringing their bikes to BART,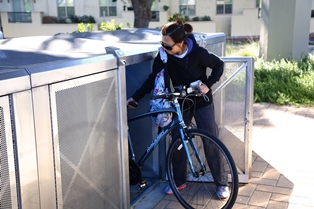 Bike East Bay and BART have announced a new partnership to prevent bike thefts at BART stations. From now through the summer of 2015, representatives from Bike East Bay will be at BART stations throughout the system during the evening commute to share bicycle security tips and hand out free theft prevention materials.

"Bike theft is an ongoing problem in the Bay Area, but with the right equipment and knowledge cyclists can significantly reduce the chances their bikes will be stolen while riding BART," BART Board member Robert Raburn said. "While we now allow bikes on board during the commute, we also want to encourage cyclists who don't need their bike on both ends of their BART trip to take advantage of bike parking at our stations."
The program, which targets a new BART station around the system at each outreach event, will also provide cyclists and potential cyclists with:
Discounts on sturdy U-locks
BikeLink starter cards (to start cyclists with BART bike lockers and Bike Stations use)
Bike registration assistance
BART and Bike East Bay are also using the outreach as an opportunity to remind cyclists of our bike rules. "If you need to have your bike for both parts of your trip, remember good bike on BART etiquette: no bikes on the first car of a train or the first three cars during the peak commute, avoid crowded cars and please don't carry your bike on the escalators," Bike East Bay Executive Director Renee Rivera said.
The calendar of outreach events through the end of 2014 and a list of bike shops participating in the U-lock discount program are posted at https://bikeeastbay.org/BARTBikeTheft
Tips on how to prevent bike theft can be found at www.bart.gov/bikes
Quick facts about bike parking at BART
Rack spaces = 3,538
Bike lockers = 1,640
Bike station = 782 (Located at Ashby, Embarcadero, Downtown Berkley, Fruitvale)
Total = 5,960
BART has several projects in progress to increase the supply of secure bike parking:
19th Street Bike Station—under construction, will open next month, in January.
Civic Center Bike Station—will be under construction soon and we expect to open it next spring.
We are also designing bike stations for MacArthur, Concord and Pleasant Hill stations and hope to have them under way in 2015.
BART Bike Rules
Bikes are never allowed on crowded cars (there must be enough room to comfortably accommodate you and your bicycle).
Bikes are never allowed on the first car of any train.
Bikes are not allowed in the first three cars during commute hours (7:00 to 9:00 AM and 4:30 to 6:30 PM).
Bikes are not allowed on escalators.
Bicyclists must yield to other passengers and not block aisles or doors.
On BART property, bikes must be parked in racks and lockers. Bikes parked against poles, fences or railings will be removed.