BART Board approves budget focused on service improvements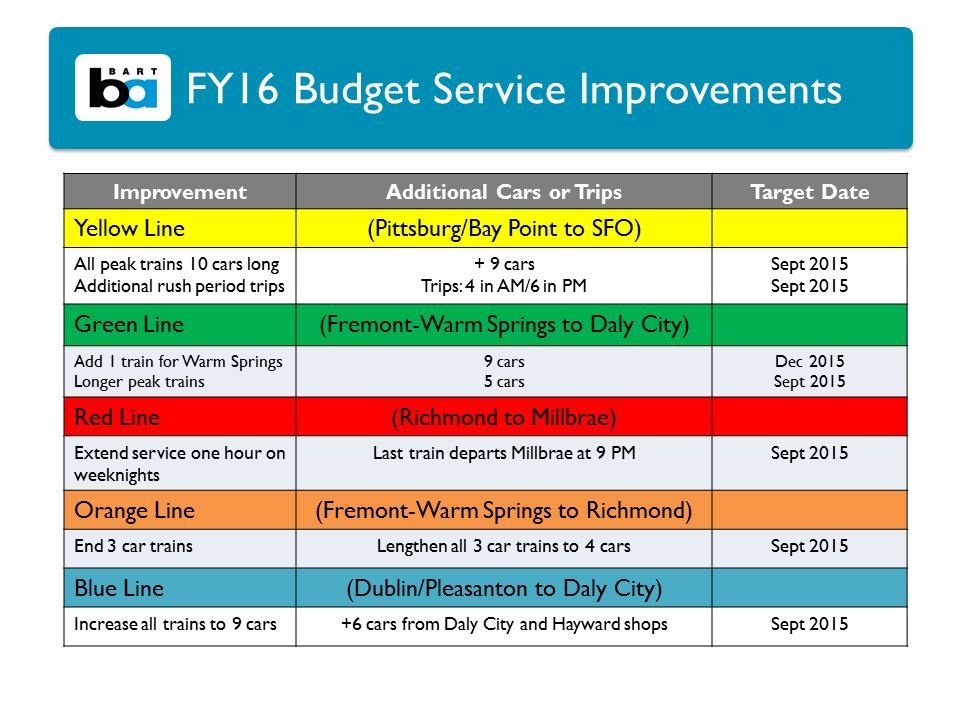 With record ridership stretching BART resources as never before, the Board of Directors voted today to direct money to initiatives designed to increase train passenger capacity and to improve on-time performance.
"Until the new Fleet of the Future train cars begin to be phased into service over the next few years, we need to be creative in finding ways to meet our customers' needs now," said BART Board of Directors President Tom Blalock. "This budget does that. With these new investments, we'll squeeze more capacity out of our existing rail cars, tackle some of our recurring reliability issues and even invest in keeping trains and stations cleaner."
The budget funds changes that are designed to produce 30 more train cars in service during peak periods and adds 16 train trips each weekday.
This is accomplished by:
Moving train cars from maintenance to passenger service at a faster pace (BART already boasts one of the industry's highest rates of cars availability).
Adding shifts for train car maintenance workers.
Repairing and putting back into service four to six badly damaged cars.
Using the Contra Costa Crossover to add 10 train trips to the Yellow Line.
Adding six train trips to the Red Line.
Each line will see service improvements:
Increasing the minimum length of trains on the Orange Line (Richmond to Fremont) from three to four, marking the end of three-car trains anywhere on the BART system.
Red line service (direct Millbrae to Richmond service) will be extended by one hour on weeknights with the last train departing Millbrae at 9pm.
Longer train lengths for the Blue line (Dublin Pleasanton to Daly City), Yellow line (Pittsburg/Bay Point to SFO), and Green line (Fremont to Daly City).
The budget also includes money to boost on-time performance by:
Adding two Train Control Technicians to quickly fix train control failures that currently account for almost one fifth of the late trains. The new technicians are expected to improve response time by 15%.
Extend the hours for stand-by paramedics to respond more quickly to medical emergencies in and near the Transbay Tube during BART's busiest times.
Add six more rail vehicle engineers to improve car reliability.
The budget also increases cleanliness and police presence:
21 additional station cleaning staff to clean and scrub stations more frequently.
14 additional train cleaning staff to clean floors and disinfect seats.
Four new BART Police officers dedicated to downtown San Francisco to support the Crisis Intervention Team, which seeks to assist and support individuals with mental health issues. Another four additional officers and five additional Community Service Officers to increase police presence on our system.
Other noteworthy projects include:
$20 million for rail replacement to keep BART safe and reliable as part of BART's system renovation capital budget and our "Building a Better BART" efforts.
Funding to continue late night bus service that provides additional transbay bus service during the hours BART is closed.
The FY16 $1.57 billion budget (operating and capital) assumes revenue from a January 1, 2016 inflation-based 3.4% fare increase to help fund the system's extensive capital needs. The fare increase is scheduled as part of multi-year Inflation Based Fare Increase Program. This money is dedicated to our highest priority capital needs including new rail cars, an automated train control system, and an expanded maintenance facility.
It assumes an average weekday ridership of 429,695 trips, up 1.8% from the current average weekday ridership of 422,162.