Celebrate SF Pride and take BART to the parade
BART will be celebrating diversity and the LGBTQ community at SF Pride this year with extra (and longer!) trains.
On this coming Sunday, June 28, BART will increase the amount and length of trains to imitate Saturday service and weekday commute-length trains.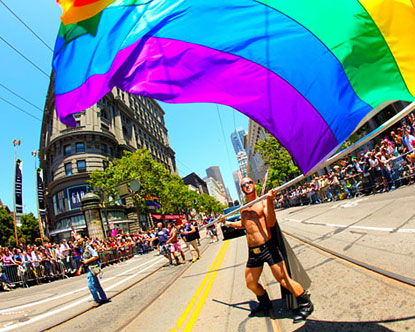 This year marks the 45th annual San Francisco Pride Celebration, to be held over the weekend and culminating in Sunday's parade. With an incredible number of participants each year, the San Francisco LGBT Pride Celebration and Parade is the largest annual gathering of Lesbian, Gay, Bisexual, Transgender people and allies in the nation.
San Francisco Pride has come to symbolize several things: the long history of lesbian, gay, bisexual, transgender, and queer dignity, the freedom of all people to meaningfully and proudly express their sexual and gender identities, and the commitment of LGBT people to combating oppression.
Passengers headed to the festivities are encouraged to use BART's mobile website (http://m.bart.gov) for Real Time Departures and other service related information. To avoid long lines at ticket machines, purchase a round-trip ticket beforehand or use a pre-loaded Clipper card.
The two-day celebration is free and open to all, and we encourage everyone to take part in this historic event—be on the lookout for the BARTmobile! For parade route information and additional details, please click here.