Trouble navigating through BART? Wayfinding improvements on the way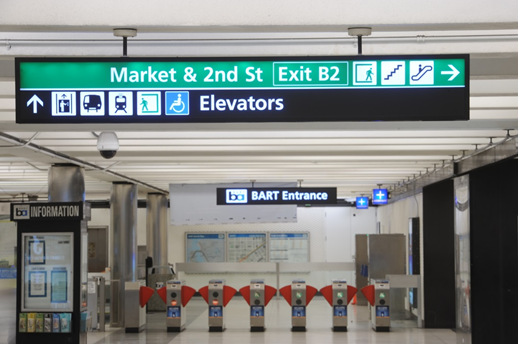 On January 28, the BART Board of Directors approved a contract that will jump start the third phase of wayfinding upgrades at Lake Merritt, Coliseum, San Leandro, Bay Fair, Hayward, South Hayward, 19th Street/Oakland, West Oakland, 16th Street/Mission, and 24th Street/Mission stations.
BART's wayfinding improvement project is an ongoing program designed to help passengers easily navigate through the system via new, easy-to-understand signage and Transit Information Displays.
Much of the existing signage has not been updated in decades; the new signs will provide consistent, understandable directions through intentional use of color cues and pictograms to better convey messages. The new Transit Information Displays will offer riders information in English, Spanish, and Mandarin about transit options, points of interest, regional activities, and more.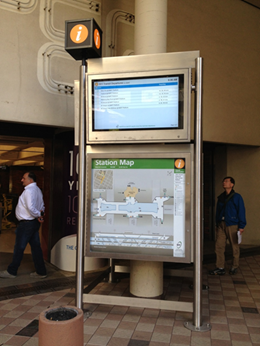 The highly popular real-time displays – similar to displays at 19th Street/Oakland's canopy entrance – will be installed on the concourse levels to provide the most accurate train departure and arrival times as well as service alerts.
Outside stations, modern stainless steel pylons with brightly illuminated, backlit station names will replace the dated, dull signage that can be difficult to recognize.
This third phase follows phase one and two, which addresses signage at transit hub stations and initiated construction at 16 stations in Alameda, Contra Costa, and San Francisco counties – much of which is ongoing. The FTA, State Prop 1B, SF County Prop K, and BART provided the funding for this $7 million contract. Construction is expected to begin in May 2016, and will be completed in late 2017.
Building a better BART starts with ensuring patrons can easily navigate from point A to point B on our system – and the new signage is a leap in the right direction.