First Fleet of the Future train car heads west
You might see a brand new BART train car travelling next to you on the highway in the next few days. The inaugural train car from BART's Fleet of the Future has been completed and is now headed on a cross-country journey from Plattsburgh, New York to a BART testing facility in Hayward. This first test car will be followed by nine others throughout the year to make our first new 10-car test train.
Train car number 3001 was carefully strapped to a flatbed truck last week before departing for its 3600 mile road trip home to the Bay Area. Bombardier Transit Corporation is building BART's Fleet of the Future and provided this video showing the 70-foot-long, 10-foot-6-inches tall, 65,500 pound train car pulling out of its factory and taking off on snow-covered East Coast roads. Car 3001 is a "cab car," which means it leads the train with room for a train operator. The face of the car has a more modern feel than our current old cars, but still manages to keep BART's iconic look.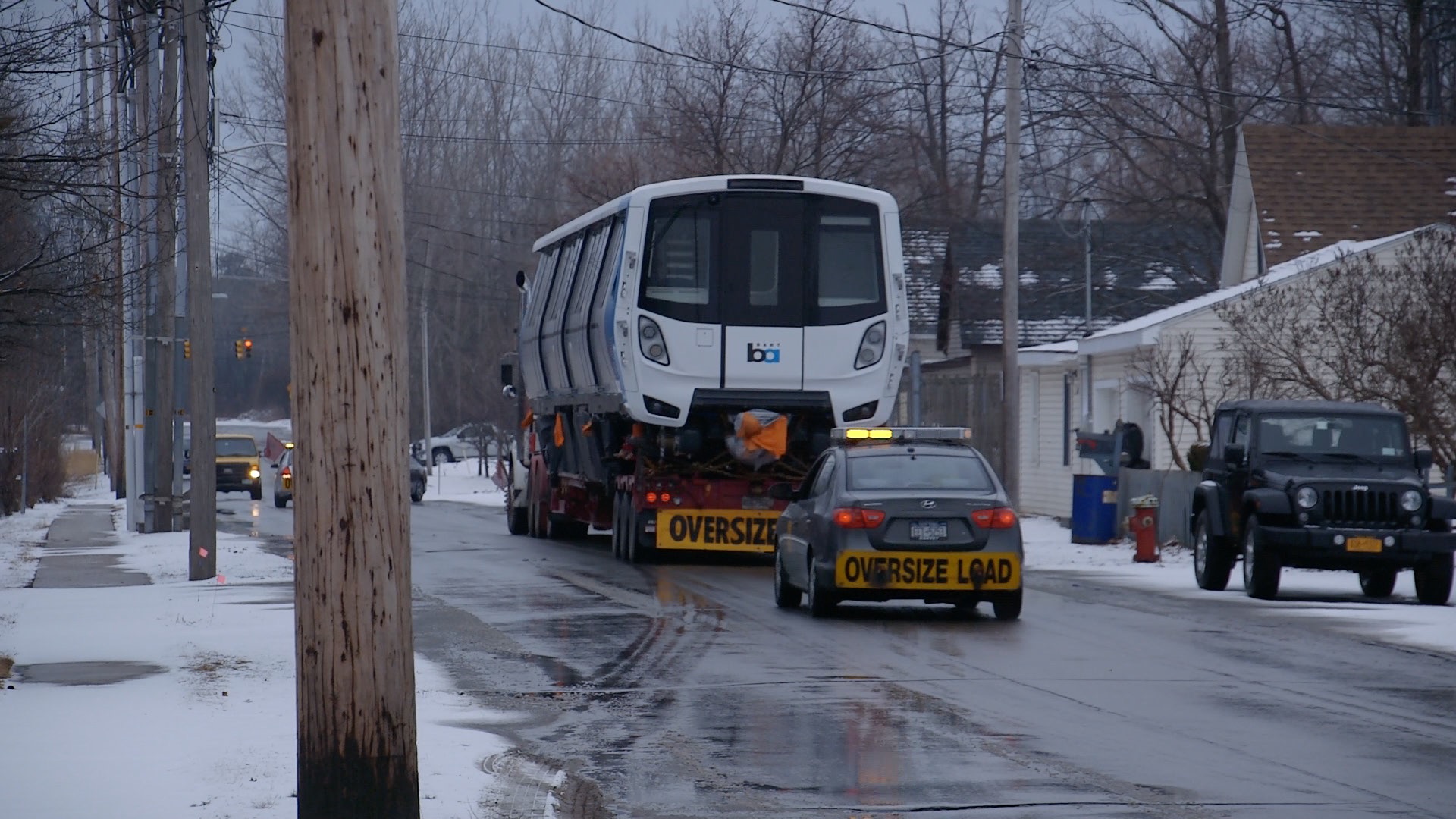 The trip home will take several days depending on weather and road conditions. Much to our delight, the car isn't covered, and the wide load will be a highly visible attraction on highways- reminiscent of the very first BART prototype car that arrived in the Bay Area in 1970 before passenger service started in 1972.
Once the car arrives, it will undergo many months of rigorous testing before being put into passenger service- a target date of December 2016 if testing goes well and no major re-engineering is required. Key to safety and success of the new fleet will be the initial quality assurance, system integration, and safety tests that will take place before the California Public Utility Commission gives their blessing for passenger service.
"There couldn't be a better visual to remind the public that crowding relief is on its way at BART than the very first train car arriving for everyone to see," said BART spokeswoman Alicia Trost. "The new cars were designed with input from our riders, and we can't wait to show them off and put them on the rails once cleared for service. BART riders will get the benefit of at least 50 new cars added to service throughout next year, which will go a long way toward tackling our crowding problems."
To date, over 35,000 people have helped BART and Bombardier make design decisions through their input. Riders will enjoy these new benefits:
Quieter: "micro-plug" doors will help seal out noise
Cooler: cooling systems will distribute air directly to the ceilings, making it more comfortable for standees on hot days
Comfortable: padded seats with lumbar support will be covered with wipeable fabric for easy cleaning
Easy to use: routes will be color-coded like the BART system map, and next-stop information will be readily available via automated announcements and digital screens.
More space and options: aisles are wider, seats are higher for space to fit luggage underneath, the ceiling is higher for tall folks, there are dedicated bike racks in each car, more reserved seating for seniors and people with disabilities, more handholds for standees of all heights, and a third door makes it easier to board and off board the train.
775 new train cars are on order, but our goal is to find the funding to bring that number up to 1,081 - increasing the number of seats in the fleet by 49%.
The 775 cars will arrive in the Bay Area in stages from 2016-2021, with the 10 test cars arriving in 2016 and an additional 54 cars arriving in 2017. BART will begin to retire the aging cars when appropriate, paying close attention to ridership needs and safety.
Read all about the new fleet at www.bart.gov/cars