Senior citizens: Using Clipper card is a breeze – and keeps us active and on the move
By MELISSA JORDAN
BART Senior Web Producer
This Friday, May 20, senior citizens from around San Leandro will gather at the Senior Community Center for a New Orleans Jazz-themed wellness fair where BART is one of the agencies spreading information about how to let the good times roll -- in BART's case, by using Senior Clipper cards.
BART has used outreach events like the upcoming senior fair to spread the word about the Senior Clipper, an all-in-one smartcard that automatically gives the 62.5% senior discount on BART and other transit systems. N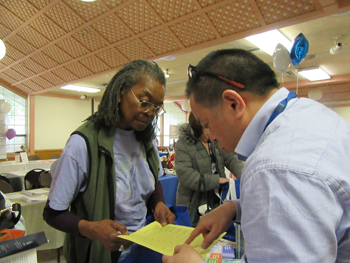 early three-quarters of senior citizens who ride BART use Clipper.
"I love my Senior Clipper card," said Carol Sugimura, one of dozens of seniors who stopped by an outreach table being staffed by Samson Wong of BART's customer services department at another health and wellness fair in Castro Valley recently. (At right, Wong helps a customer read a discount fare chart).
"I appreciate the versatility; it's easy to load; and you get a great discount," said Sugimura, who picked up one of the table giveaways – an artsy. adhesive-backed Clipper sleeve to protect the card and keep it within easy reach on a mobile phone, wallet or purse. Wong talked with others who had not yet heard about the benefits of Clipper; many of them stopped right there on the spot to fill out an application.
Rudy Chin heard Wong's spiel and was giving serious thought to applying for the card. "I just might try it," he said. "It sounds like a good deal."
Wong pulled out a fare chart and used Castro Valley to Embarcadero stations as an example when showing seniors the difference in costs, in case they wanted to hop down to the Ferry Building and pick up some gourmet foods, or take in the view of the Bay Bridge.
"For someone my age to do that round-trip," Wong said, "It would be 10 dollars. For you, it would be 3 dollars and 70 cents."
Most of those stopping by the booth either had one already, or wanted to get one once they heard about it. The card, plastic like a credit card, is used to simply "tap" on faregates, so you don't have to keep up with paper tickets or worry about small balances.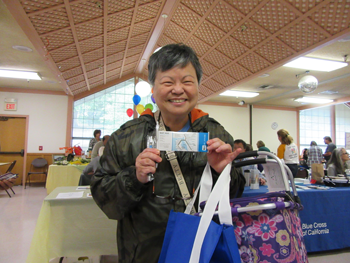 "It's so much easier," said Maria Mesa of Castro Valley. "You don't have to worry about pulling out money all the time to add fare because you can already have it loaded onto the same card every time. I load mine up when I go to Walgreens."
It's clear seniors are on the move with Clipper and BART: They talked about going places like Davies Symphony Hall in San Francisco to hear musical performances, taking transit to volunteer at venues such as the Asian Art Museum, and using BART to connect to airports for visits to grandchildren – or on vacation adventures. (Above, a customer stopping by Wong's table shows off the pen with pull-out map she received as a free goodie from BART.)
Wong said BART does outreach to help seniors understand the significance of signing up for the Senior Clipper, with benefits including saving money through the discount, and the convenience of being able to use the same card on 20 or more different transit systems.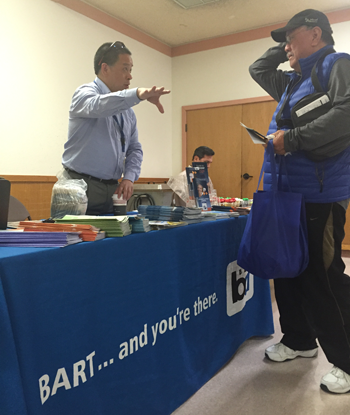 "Once they know the significance, then the mechanics of signing up are easier," he said.

Wong assures seniors that green senior discount paper tickets are still around, however, there are fewer locations at which to buy them, so transitioning to Clipper makes a lot of sense.

Wong also tells his outreach visitors about the BART field trip program for senior citizens, where he takes groups out on a trip to show them how to use their newly minted Senior Clipper cards as they visit popular destinations such as shopping centers and museums.

The Senior Field Trip program started in spring 2014 as part of an effort to promote the use of Senior Clipper cards and encourage senior green discount ticket users to apply. Since then, BART Customer Services has conducted scores of field trips and helped to add hundreds of new seniors to the Clipper rolls.
It's a good feeling to be able to share with senior citizens all the possibilities at their fingertips once they are comfortable using transit and see all of its benefits, Wong said.
"It's the same feeling when I use to register voters years ago before I came to BART. It's empowering seniors to travel independently while saving money."