A Night in the Life: What it's like to be a train cleaner at BART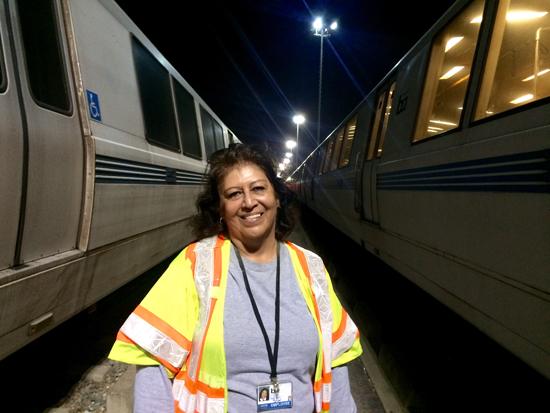 Utility Foreworker Jennie Meixel on the overnight shift at the Hayward train yard
By RAQUEL CRITES
BART Communications Intern
A bright half-moon over the Hayward yard reflects off the yellow safety vests of a half-dozen utility workers who just came on duty for their 9 to 5 shift -- 9 pm to 5 am, that is -- cleaning BART cars that roll in for the night.
Whether it's after a parade in San Francisco, an A's game in Oakland, or a regular weekday with nearly a half-million riders, a BART train at the end of its run is in dire need of cleaning. And car cleaners -- utility workers as they are officially known -- are up all night to get the job done.

GETTING READY FOR THE NIGHT
They load up their orange tugs (a narrow double-ended vehicle that can fit between trains on two tracks) with mops, brooms, scrubbers, trash bags and other cleaning supplies before a hard night's work, so that cars can be as clean as possible for the start of the next day.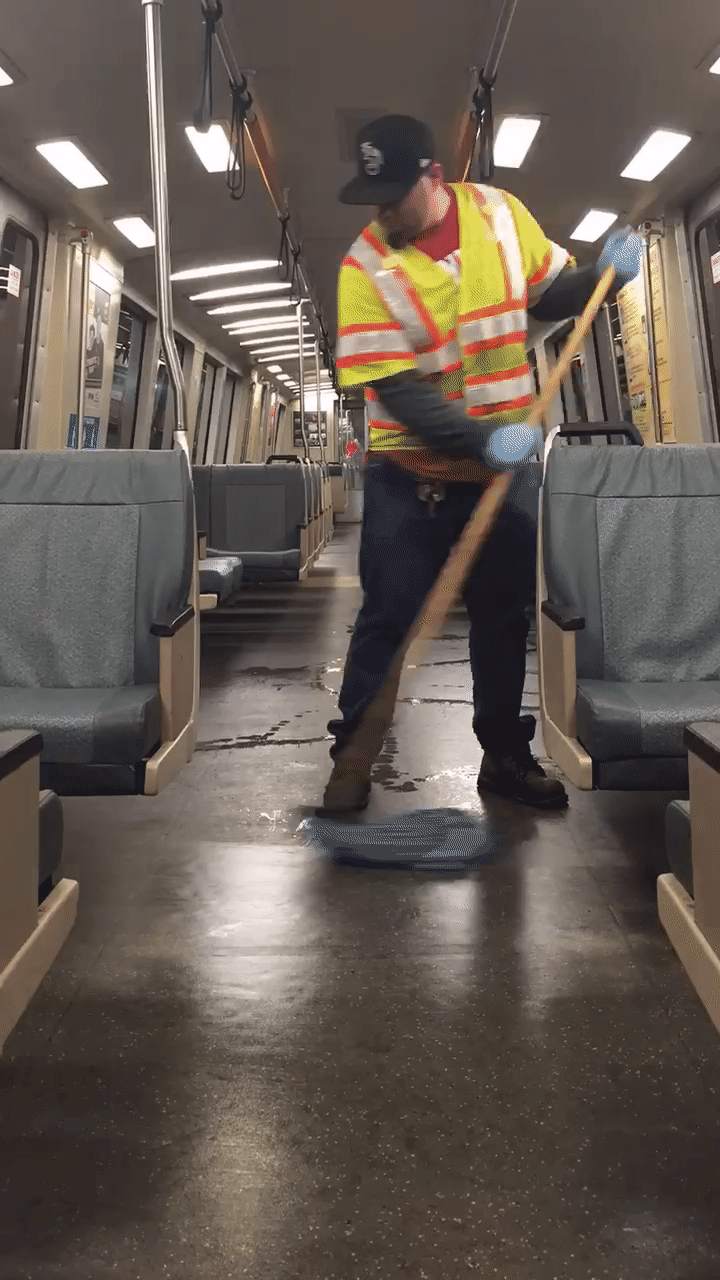 Eric Santos mops a car floor thoroughly, quickly, and with finesse

MOPPING WITH SPEED AND PURPOSE

Tonight there is a crew of six in Hayward, one of five shops where trains pile in steadily until 2 am. Teams will split up and do priority work on the cars, which includes picking up trash, sweeping and mopping floors, erasing graffiti and cleaning safety-related messes such as spills and other wet waste.
Time and staff permitting, they will also work on spot cleaning, such as removing gum from the floors and other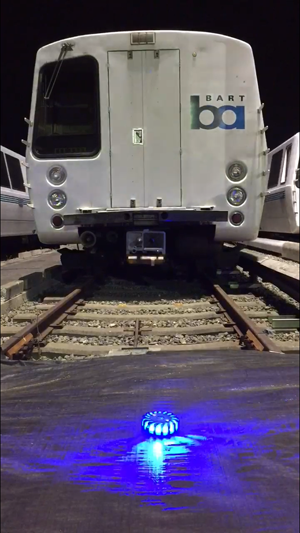 more detailed and targeted project work.
Once the blue safety light is placed on the tracks in front of a car being cleaned, signaling to the control tower to keep the car out of service, cleaner Eric Santos opens a door to access his tug and begins swabbing with intensity and purpose.
Mopping and talking, Santos, who has been a cleaner for eight years, describes the hardest part of his job: "The biggest challenge is dealing with the elements, especially rain, because extra safety precautions are necessary, but they can slow you down."
Car cleaning is a tough, physical job, but it's one that is very important to riders, and one that BART works to recruit and hire for with care.
Cleaners have to have at least one year of industrial janitorial experience, pass various tests and background checks, successfully demonstrate their cleaning practices, and succeed in interviews.
Jeff Baker, BART's assistant maintenance superintendent for car appearance, said experience like working for a house-cleaning service probably does not cover the range of duties in industrial cleaning, where safety and injury prevention are extremely important concerns.
After hire, there are extensive training videos and techniques to learn, administered in part by Tony Gletty, employee development specialist, who trains utility workers.
"It is hard to find people with industrial janitorial experience and get them through the entire process." Gletty said.
A FOOT IN THE DOOR

He said one of the selling points though, is upward mobility -- because BART has various career opportunity paths that can lead to other jobs, if workers want to move up. "I like to tell them, 'It's a foot in the door,' " Gletty said.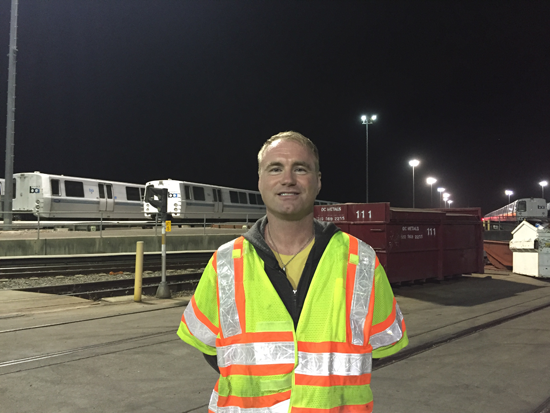 Employee development specialist Tony Gletty
Jennie Meixel, utility foreworker at the Hayward shop, sent her staff of six off on their assignments last Tuesday night, which would include cleaning more than 120 train cars. Meixel, Gletty and other supervisors and trainers encourage cleaners to come up with innovative methods to keep safety as the No. 1 priority, including finding ergonomically better ways to do the tasks at hand.
Cleaners have attached longer handles and swivels to scrub brushes, to clean out-of-the way places, and have used a dowel-like stick to hold a plastic garbage bag open so they can have another hand free to toss trash in the bag. Perfecting a comfortable style of sweeping and mopping, workers can do their job more efficiently and their chances of getting hurt on the job are reduced.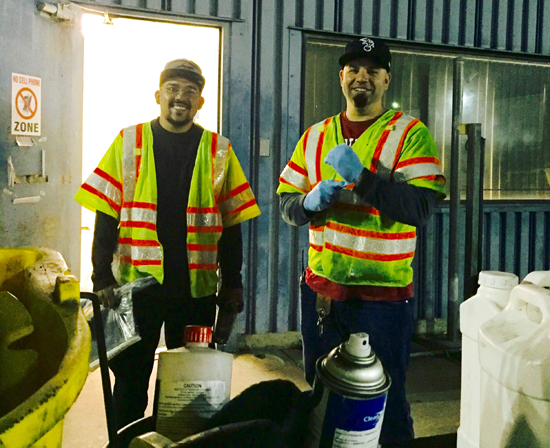 Utility workers prepare for the night's assignments
"When BART had the old carpet flooring, I used to have to get on my hands and knees to scrub spots, and bend in awkward positions." Gletty reflected. "It's a lot better now." Meixel mixes it up to keep workers from strain: "I try to rotate tasks as much as possible," she said.
Black splotches of gum, flattened into the floor by being stepped on hundreds of times, were like sticky polka dots on the floors of train cars. (Even though the new composite flooring is easier to clean than the old carpeted floors, the last of which were removed in August 2015.) Someone had left a half-drunk Big Gulp beverage on the seats as well, but the workers said that was one of the cleaner cars they typically encounter.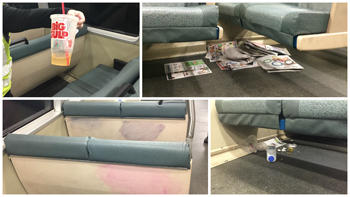 Different types of debris found on a train car in Hayward last Tuesday
The crew had found time to do three of their deep "every inch from top to bottom" cleans in recent days, using teamwork and positive attitudes to stay motivated.

One of the cleaners, Ngot Nguyen, took off with his mop but not before posing for a picture and making sure the visitors knew his nickname: "They call me Mr. Wonderful," he said.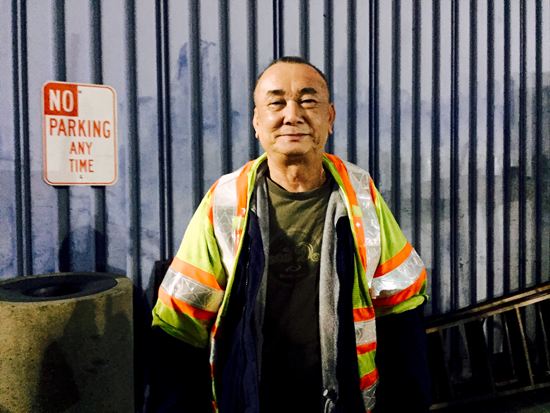 Ngot Nguyen's colleagues call him Mr. Wonderful
"Motivation is a challenge because no matter what we do it's not enough. Through no fault of anybody, just the fact that it is a mass transit system, we're always behind," said Mario Hill, a foreworker of 10 months at the Richmond shop, who used to be a car cleaner.

Hill, who started his car cleaning career working graveyard shift at 52 years old while owning and managing his own company during the day, had the opportunity to become a foreworker and be able to supervise his old crew.
"I love my crew. They were the ones who trained me and this is where I started. At the end of the day, we really stick together. I wouldn't trade them for anything." Hill said. After becoming a foreworker, Hill gave his son the opportunity to run the family business while dad stuck with BART.
Car cleaners, although faced with a physically demanding job and graveyard hours, have the opportunity to move up into other positions at BART with dedication and initiative.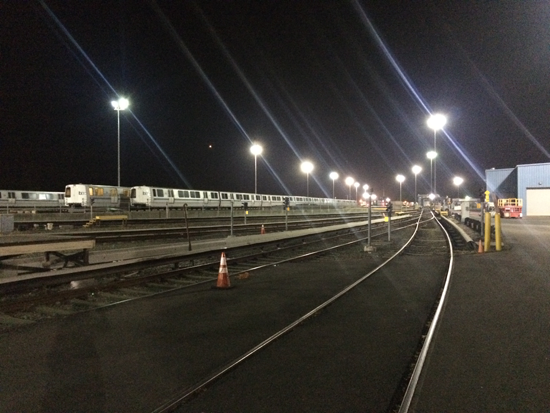 Night falls and trains roll in for cleaning at Hayward yard
"I saw a ton of opportunity," said Hill, who has also mentored and coached youth sports. "I was encouraging young cleaners to take advantage of BART," he said, adding that his grandfather once told him "Nothing beats a fail, but a try." The work is also rewarding because it is so vital to customers, Hill said.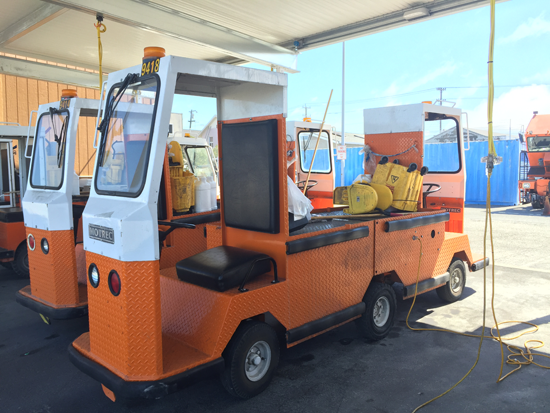 The "tug" is a key piece of equipment in cleaning cars
BART riders have consistently identified cleanliness of trains as one of the issues most important to them in biennial Customer Satisfaction Surveys.

A KEY CUSTOMER CONCERN

"One thing I like to see is the clean floor and clean seats," said one respondent in the verbatim comment section of the most recent survey, from 2014.
"We know that the cleanliness of the trains is a very important concern to our customers," said Jeff Baker. "It's hard work and our crews put an incredible effort into getting it done and done right. As with everyone, we could use more resources, but they do a really good job and we are proud of their work."
Although the main cleaning happens during the night, the process of keeping BART clean for passengers is happening 24/7, like a well-oiled machine. End of line (EOL) cleaners during day shifts are waiting for trains to come back and forth to pick up trash and take care of any major issues before they return to the public on every trip.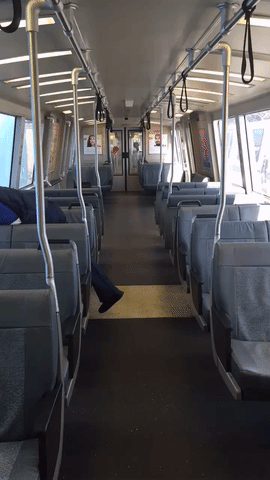 Cassandra Jackson, at right shown cleaning a car during its turnaround stop, is an end of line cleaner and longtime employee of BART. She said that although there are different groups that clean, they all work toward the same goal. "People should know that we are always ready to assist the public; we are here for you." she said.
A TOUGH BALANCE

It's a tough balance for end of line workers, she said, because they have a standard of cleanliness that must be upheld before the trains return to service, but keeping them running on time is also crucial.
Meixel, Hill and Gletty are all former car cleaners who found upward mobility at BART. One of the Hayward overnight cleaners, Santos, will join them soon; he is part of a Career Path Opportunities program administered by BART in which he will train to become a transit vehicle mechanic.

Meixel said she has seen passengers who are very respectful and treat the cars as they would their home, cleaning up after themselves, but that others aren't so courteous.
"We would just ask customers, 'Please pick up your garbage and take it with you when you leave,' " she said. One person's newspaper left behind isn't a problem. But multiply that by 420,000 trips a day and you have piles upon piles of trash.
Some riders agree with Meixel. Another respondent to the most recently published Customer Satisfaction Survey wrote: "BART could be better if people treated it like their house; nice and clean. Since it's public, they don't treat it well."
After large events or celebrations conditions can be atrocious -- cleaners told of finding popcorn, confetti, spilled drinks and the unfortunate evidence of partiers who couldn't hold their liquor. "New Year's Eve is the worst," Meixel said. Raiders games are another cleaning nightmare.
"This is one of those jobs where your body can only do so much," Hill said. "If you haven't cleaned trains for 30 days straight you don't know what these cleaners go through. If anybody thinks different, I would invite them to work with us for 30 days and hold judgment until then."
"It takes a toll on you, but we're not gonna cry about it. We're going to do the best we can," he said.
Indeed, there was no crying, but smiles, high-fives and posing for photos, as Meixel's crew neared their lunch break in Hayward.
"There's a lot of laughter in this place," she said. "Everyone gets along as a team. It's a good work environment."
Under the stars, the workers are stars in their own right. The U.S. and California flags fluttered in the cool breeze above the Hayward yard. Crickets chirped in the brush just beyond the train tracks. And the crews said goodbye to clean the next train.