BART PD connects young gunshot survivor to SF pro soccer team for a night to remember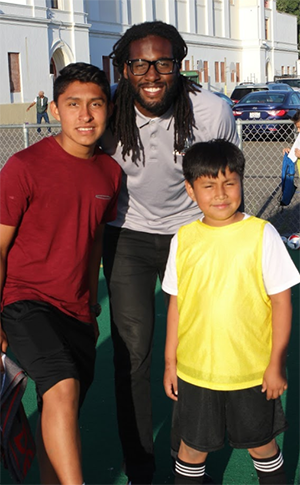 By MELISSA JORDAN
BART Senior Web Producer
A dream team will make dreams come true Saturday night, July 15, for a group of young Oakland soccer players and their families.
It began with the story of Isai Catalan, a bystander wounded in a drive-by shooting on the day of his 9th birthday as he was out for a walk with his parents on East 27th Street. Word spread to Michele Lazaneo, BART's COPPS (Community-Oriented Policing and Problem-Solving) Community Outreach Coordinator.
"We wanted him to know we knew about what happened to him, and that we cared, and were proud of him for being a survivor," Lazaneo said.
Image above, from left, Isai's older brother Lester Catalan; SF Deltas player Stewart Ceus, and Isai Catalan
Several BART Police personnel attended a presentation at Isai's church, Ministerio Hispano, which is affiliated with the Allen Baptist Temple as part of outreach to the Latino community, Lazaneo said. Isai was presented with a cape and made an honorary "superhero" for his courage and perseverance.
When BART PD learned that one of Isai's favorite pastimes was soccer with his Under-12 team the FC Leopards, another good deed rippled out. Lazaneo contacted the SF Deltas, a professional soccer team in its debut season with the North American Soccer League, which donated more than 70 tickets so Isai, his teammates and families can all attend a game this Saturday night.
Not only that: Some of the youth will walk onto the field in a "dream team" ceremony at the beginning of the game, hand in hand with Deltas players, and Isai will toss the coin. BART PD personnel, including new Chief Carlos Rojas, will be there. Some of the older Leopards players will serve as ball boys.
This past Tuesday, several members of the Deltas came out to the Leopards practice in Oakland, and played a game with the kids, who were eager to keep going even after a hard practice of their own.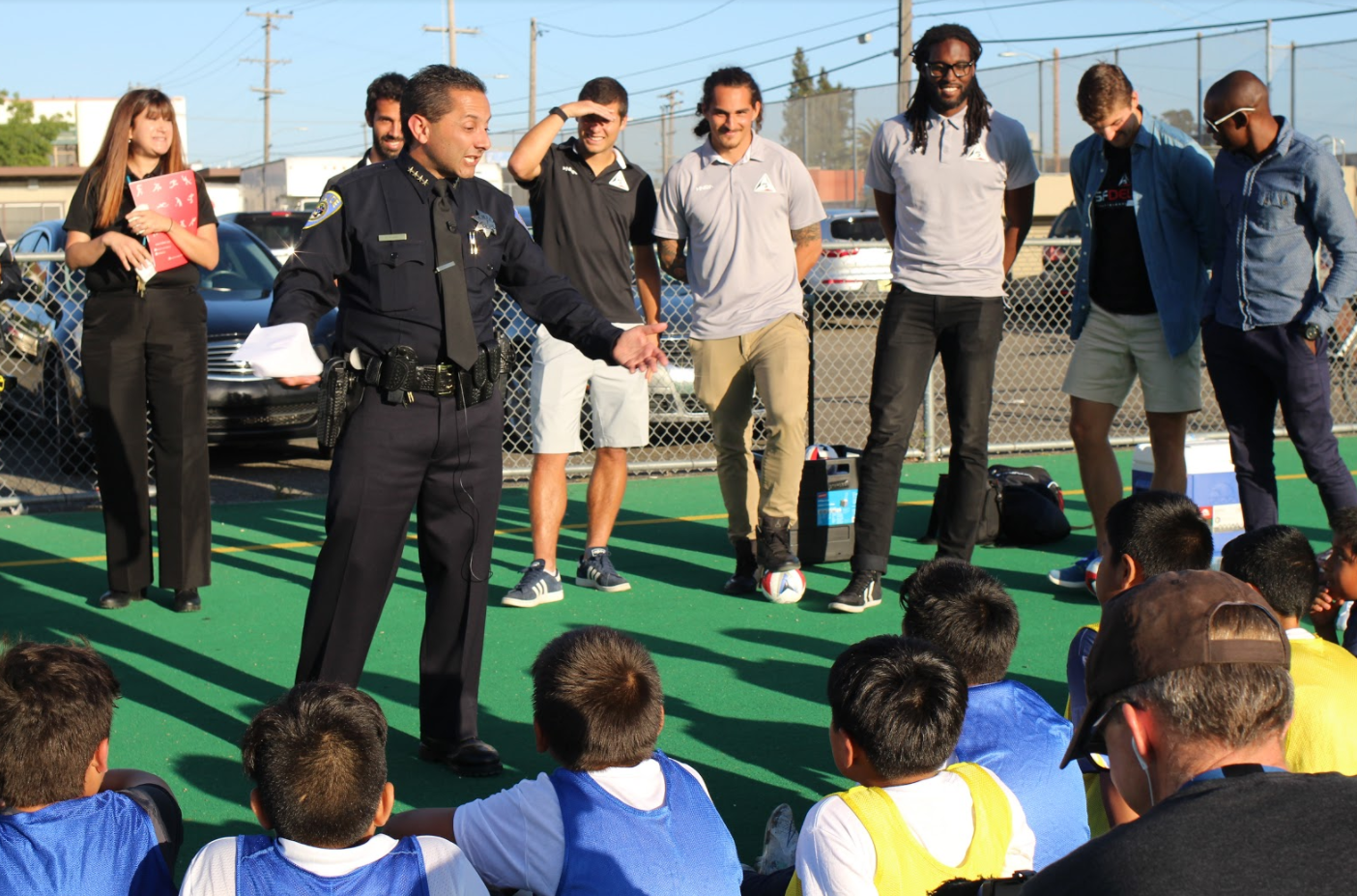 Above, BART PD Chief Carlos Rojas and SF Deltas players attend a FC Leopards practice
"It's a great motivation for these boys to work hard," Lazaneo said. "The kids are really excited. This makes them feel welcome and included. And when our staff gets out there and is involved, it gives you the kind of relationship with the wider community that you need."
"At the practice on Tuesday, for some of these kids, it was their first interaction with a police officer, and it was positive one. Out of one little boy having a tragic thing happen, so many good things have rippled out from it." Chief Rojas attended the practice as well, where the kids received their tickets.
Isai's mother, Inelda, said her family is deeply grateful for all the people who have helped her family, including the BART Police personnel and the Deltas team.
"At first I was scared, and in shock, and I was very worried about my son, but I'm so graeteful to everyone who helped," she said, speaking in Spanish through a translator. "I never thought the BART police would visit us at the church, and we were all very happy."
Pastor Isai Hurtado of Ministerio Hispano (just a coincidence with the same first name as 9-year-old Isai) said he's known the Catalan family since the boy was born.
"This experience has been a blessing not only to the Catalan family but to the whole congregation," he said. "Sometimes as Latinos, we're frightened by police, but we've seen a whole different side from this show of love and support. I think it has changed some minds in terms of how they think about police."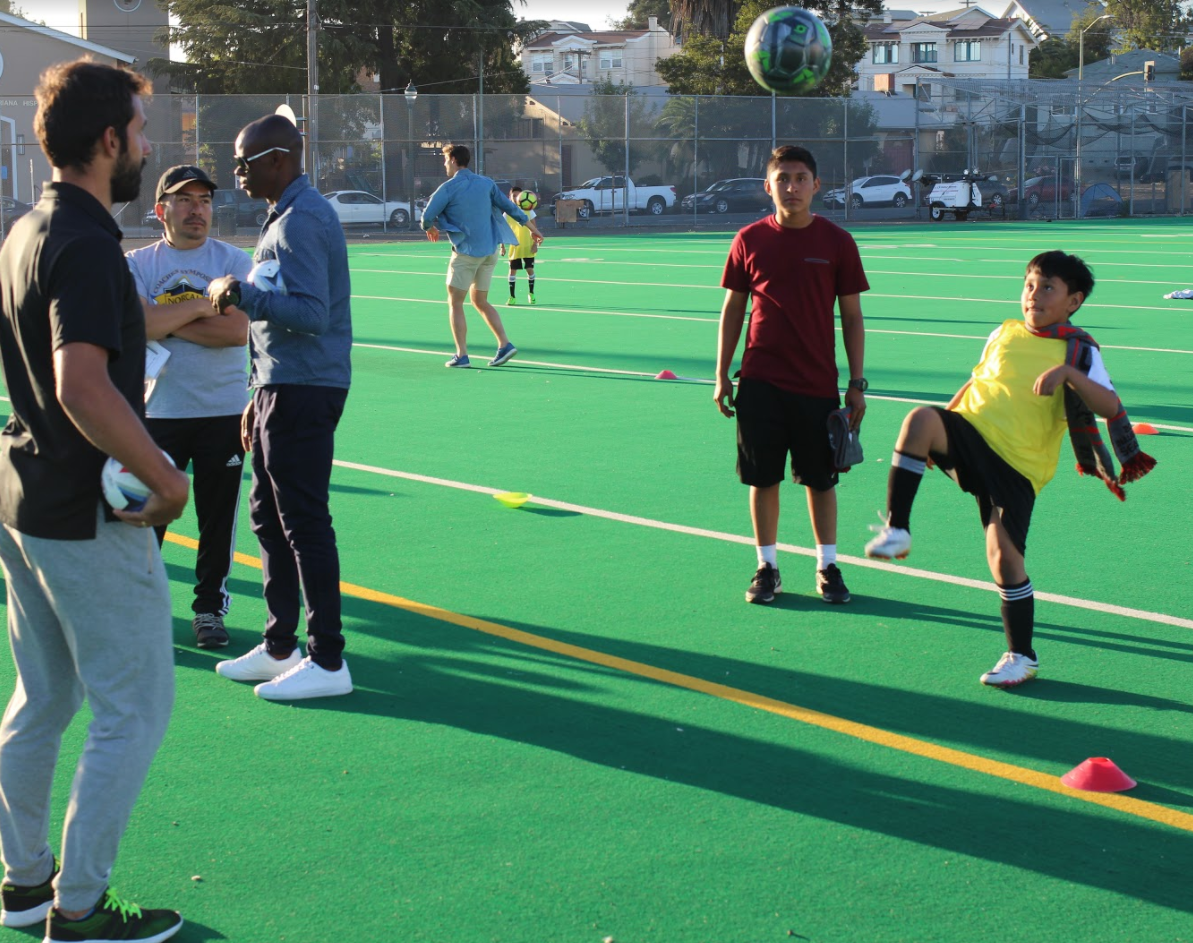 Isai Catalan (in yellow) kicks a soccer ball at practice while SF Deltas players look on
Matt Berson, director of communications for the Deltas, said the team was happy to help.
"This type of tragic situation not only affected Isai and his family, but also an entire community," Berson said. "Our players were eager to go out and meet Isai and his teammates, and are honored to provide their families an opportunity to come and enjoy a professional soccer match. It's a great way to bring people together and recognize the bravery and resilience of a young soccer player."
"Many of our players use BART to get to our practices and other events in the Bay Area; they ride just like thousands of other people do every day," Berson said. "We have a community tickets program that gives away 200 tickets for every game to nonprofits, community centers and schools, so more people can come out and have fun and create memories."