For engineering interns, a focus on safety, reliability and innovation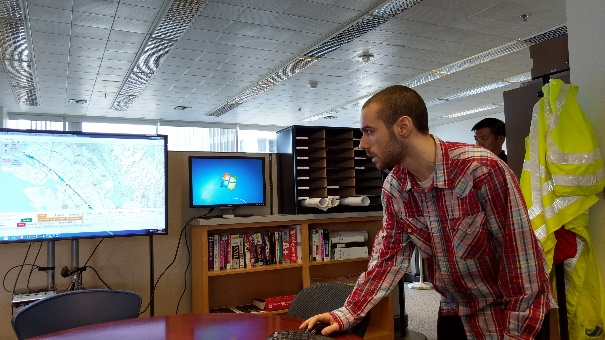 Armen Chouldjian demonstrates web app he and Anuj Shah developed
By MELISSA JORDAN
BART Senior Web Producer
When Armen Chouldjian returns to UC Berkeley in the fall, he'll ride BART knowing his summer job helped increase safety and reliability for all the transit system's riders.
Chouldjian is one of 11 engineering interns selected from more than 200 college students around the nation who applied to work in the Maintenance and Engineering Department.
For their summer project, Armen Chouldjian and Anuj Shah, from the University of Cincinnati, were asked to take information-dense reports generated from various BART computer systems and make them more readable and accessible.
They went far beyond, creating an internal web application that is already being used for greater efficiency and quicker diagnosis and resolution of problems.
"It's a win-win," said Chouldjian, who is studying electrical engineering and computer science. "I get to play with cool technology and it ends up helping people."
It's a win for BART, too, which is facing a brain drain with nearly half of current employees at retirement age, because it helps build a pipeline of skilled engineers who bring fresh ideas and new approaches to the agency.
Jonathan Lin, senior computer systems engineer in the systems engineering division, said the duo's app has cut what might have been a half-day task into less than an hour, when he needs to investigate an issue such as why and how a particular delay arose, and what could be done to prevent it.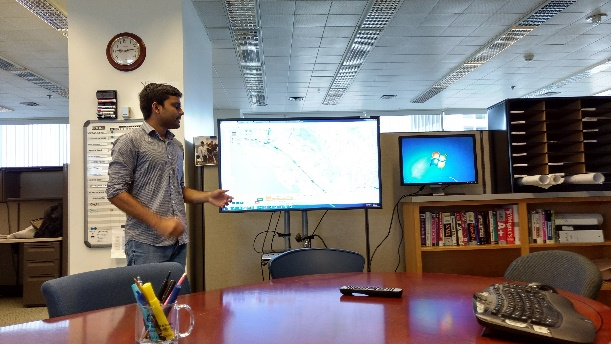 Anuj Shah shows some capabilities of the app he developed with Armen Chouldjian
Shah, a graduate student in computer science, explained that they began the process by talking to those who used the data, such as BART's Operations Control Center personnel, maintenance managers and schedulers.
"They used an Agile development method, and provided weekly demos to the end users to ensure the product would fit their needs. They also designed the system to automatically add new switch, track circuits, stations, gates and third rail, which reduces development costs," said Wendy Wheeler, the Division Manager for the Computer System Engineering Systems Group. The entire process was finished in a mere eight weeks.
"It's important to let the public know we are working on problems like reducing delays because we really care about our customers and we want to improve the customer experience," Wheeler said.
BART's summer engineering internships and junior engineer program offer mentoring and support, as well as exposure to the many different career paths in engineering at BART.
For example, another of this year's summer interns, Colin McGill, is studying mechanical engineering at the University of California, Merced. He put his skills to work in the track department with a model that forecasts rail-grinding levels and resources required – a very important concern to customers since rail grinding is one of the main tools in the battle against noise.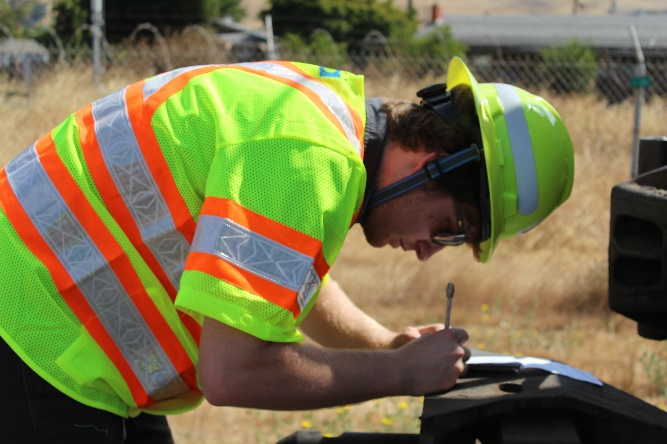 Colin McGill making notes in the field as part of his project with the Track Department
"It's like if you have poor alignment on your car, the tires will wear unevenly," McGill said. Similarly, rail-grinding helps not only for noise mitigation but also to extend the life of the tracks and the wheels of the train.
"This will help us to allocate our rail-grinding resources much more accurately," said Lyn Williams, Program Manager/Capital Programs for Maintenance & Engineering, who is serving as McGill's mentor. "I've been very impressed by the interns' ability to come in, assess what a problem is, and solve it very quickly."
You might think these newly minted engineers will head for tech start-ups, but all three interns said they would look at jobs in the public sector as well, such as in public transportation.
McGill said he appreciated the flexibility and chance for more work-life balance; he enjoys outdoor recreation such as hiking in Yosemite, a perk of his college's location. UC Merced, California's newest university, is partnering with BART on internships outside the summer term. In September, three projects are planned with UC Merced engineering students, including work on ventilation fans, train washers and industrial waste water.
"It's been a great experience," said McGill, who also hopes to find a job that avoids a long commute. He's been investing about 3 hours each day on his multimodal travel back and forth from Menlo Park to BART headquarters in Oakland. "I would much rather take public transportation than be stuck in freeway traffic."