No longer a rookie but still Big Rook: BART's longest-serving employee finds joy in his work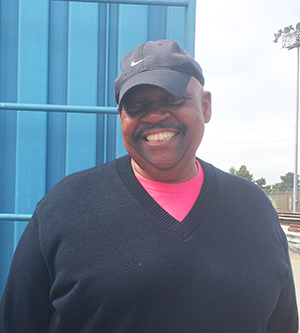 By MELISSA JORDAN
BART Senior Web Producer
In the spring of 1970 when Larry Williams first came to work for BART, he was -- in his own words -- "just a kid."
Fresh out of Berkeley High School, he was hunting for a job. The new transit district had a position in the mail room, but Williams saw more. He saw opportunity.
"It was an exciting time," Williams recalls. He signed up to be in BART's first-ever class of train operators. And he hasn't stopped yet. That's 47 years and counting, making Williams BART's longest-serving employee. And if you have ridden along the Richmond-Fremont route in the mornings in the last few decades, he has probably been your operator.
"My job brings me joy," Williams said. "If you are a positive person and you love what you do, you'll never work a day in your life." If you are thinking Larry Williams must have some kind of superpowers to last so long in a job -- not just any job, but THIS job -- you would be right.
* * *
"My job brings me joy"
* * *
Williams can close his eyes and be back as a Berkeley High student, staring at "this humongous hole in the ground" where the Bay Area's new subway would go. Or back to his childhood, living in front of Santa Fe Railroad tracks where he'd drop a penny to flatten it. Or to the first toy he ever remembers playing with -- a train, of course. "Trains have been part of my whole life," Williams says. "So having a career with BART was a dream come true."
In his first years at BART, Williams recalled, a bunch of train operators held epic ping-pong battles after work. As one of the youngest (and an initially terrible player) he got razzed as the Big Rookie. He practiced and practiced, and by the next year, he could hold his own. But the nickname Big Rook stuck.
* * *
"Trains have been part of my whole life"
* * *
When he reflects on the differences between BART nearly a half-century ago and now, Williams believes one of the biggest impacts is that of portable technology. "There's a whole vast world out there to be explored and people are chained to their devices," he says. "That is way too much power to give to an inanimate object. I used to notice people talking more to each other on their commutes, there would be the regulars who knew each other. They would read newspapers on the train. Now people seem to have so much stress. But stress can only get to you if you make a decision to let it."
One thing that isn't different – at least yet – is the trains themselves; kindly known as the "legacy" trains, they are nearing the end of their useful lives. Has the Big Rook driven one of the new Fleet of the Future trains, which will begin rolling out for passenger service later this year?
Nope. And in no hurry. Classic, practical Big Rook. "I'll do the training and drive them when I need to," he said. "It's not going to be smooth in the beginning, I can tell you that, because with anything new it takes a while. We didn't get these (original) cars done overnight. But we got the bugs out steady. And we were the new kids on the block at the time, the first computerized train system. My first runs only went from Fremont as far as MacArthur because we didn't have the whole system built. These things take time. We'll get there."
* * *
"Stress can only get to you if you make a decision to let it"
* * *
Are there any Big Rook catchphrases that the public could listen for on his train?
"I try to be clear and understandable, but I can put on my smooth operator voice, too," he said, demonstrating in a manner that could be a smooth-jazz radio station DJ. "I have to be the responsible one," like the captain of a ship, he says. (Fun fact: The operator of a peak-commute 10-car train is responsible for the safety of more people than the pilot of a 747). And he is not above getting on the intercom and calling them out if someone is hanging from handrails or otherwise "acting the fool." You may know him from his sheer happy nature. "I will give you a safe ride and also try to put a little pep in your step," he says. Now you can say hi back to Big Rook, too.
* * *
"I try to put a little pep in your step"
* * *
Linda Vasquez, an Assistant Chief Transportation Officer who started at BART not too long after him in 1974, credits temperament and dedication for Williams' longevity.
"He's a good operator. He gets along with everybody, and he takes pride in his work," she said. "You have to like what you do to be able to keep doing it for so long, and to find satisfaction in it. You have to be able to go with the flow."
Another longtime colleague, Assistant Chief Transportation Officer Paula Fraser, recalls working with Williams at the Richmond train yard in the early 1980s. "There were not many women there at the time, and he was one of the most accepting, welcoming people there," she said. "To this day he still has that enthusiasm and love for the people of the Bay Area. His energy is contagious."
* * *
"My vistas are wide open"
* * *
On a recent Monday morning, Williams started the shift at his regular time of 3:45 am ("I don't' mind getting up early," he says. "It gives you more time to enjoy the rest of the day." ) He drove the train to Fremont, about an hour-long trip, then took a short break before the return leg. "On my way to Hollywood!" he said with a laugh and a smile. He's a humble guy who wasn't even aware he held the title of longest-serving employee until now. On the train from Fremont back to Richmond, his rich, deep voice gave the announcement for each station: "Next stop, Bay Fair," he called out. "This is a Richmond train." Solid. Calm. In charge.
Williams knows the "regulars" from his route, if not by name, at least by faces. Seeing happy faces makes him happy. "If you're operating a train and you're not a people person, you are probably in the wrong job," he says.
One pressing questions remains: Does Big Rook have a retirement date in mind? "When it's not fun anymore," he says. "I'm still having fun. My vistas are wide open."