Happy Ending: Bart the BART-delaying doggo finds forever home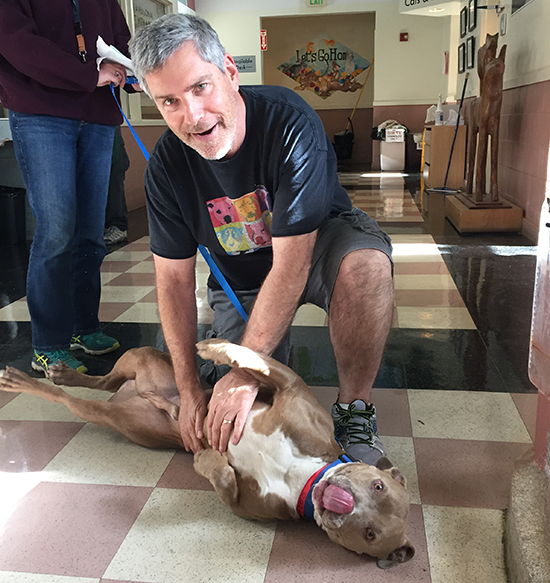 Bart the dog with new owner, Todd
By MELISSA JORDAN
BART Senior Web Producer

Remember Bart, the stray pit bull mix that tied up trains a while back when he wandered onto the tracks, before being rescued by BART Police?
He's being a very good boy these days, after his adoption by an Oakland family who didn't even know of his celebrity when they started looking for a dog.
"I had been interested in a pit bull because I know they have a harder time being adopted, and I wanted to help with that," new owner Todd, who adopted the velvety-brown dog with a white-flashed chest and chocolate eyes from Oakland Animal Services last week, said Thursday.
"When I went in, all the other dogs were barking in their kennels, and he was just sitting there calmly," he recounted. "He walked very well on a leash, was very affectionate, and really mellow."
Bart is getting along well with the family's calico cat, Topaz, who has deigned to allow him to snuggle. "She's pretty feisty and likes to be queen of the house," he said.
"Bart is so easygoing, and has a very mild disposition," Todd said. "I haven't heard him bark yet."
That's probably a good thing for Todd, who brought Bart home from the shelter hoping wife BethAnn would warm up to the adoption. (And who HASN'T been surprised by a spouse or child or roommate bringing home a pet unannounced, expecting sweet puppy-dog eyes to seal the deal?)
BethAnn couldn't resist keeping the friendly fellow but has renaming privileges, and is considering Bodie. But as Todd said, "He's Bart for now."
His favorite things to do are lolling on the couch and snoozing on the dog bed in the bedroom with Todd and BethAnn.
Doggie dude goals achieved, Bart/Bodie.