Structural Engineering: The Building Blocks of Infrastructure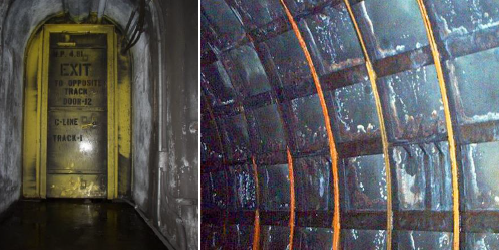 Making tunnels and structures sound in an earthquake is part of a structural engineer's work
Part III in our four-part series celebrating National Engineers Week. You're invited to join in our Twitter Q&A at the end of the week on Friday, Feb. 23, from noon - 1 pm PST.
By MELISSA JORDAN
BART Senior Web Producer
Who makes sure that everything BART builds, above ground or below ground, is structurally sound? That would be the members of Tracy Johnson's team, which includes structural and civil engineering, track engineering and construction management engineering.
Structural engineers must make sure things work on a day-to-day basis, but also that they are built with long-term issues in mind – particularly in seismic safety, since the Bay Area is in the heart of earthquake country.
Structural engineers work on tracks, bridges, aerial structures, buildings, design reviews, calculations, drawings, evaluation of contractors, and engagement with research to develop new technologies, among other things. It's an engineering area critical for safety of the BART system, the top priority.
"We see and understand our role in helping the Bay Area work," said Johnson, Group Manager of Civil and Structural Engineering. "It's a weight on your shoulders, but you come into engineering recognizing that weight."
"Engineers are careful, meticulous," she said. "We take our responsibilities seriously. It's also just fun to work with a lot of smart people."
If you have questions about these areas of BART's engineering staff, follow our Twitter Q&A on Friday, Feb. 23, from noon - 1 pm. You can review open positions at www.bart.gov/jobs.
To make searching easier, you can search on these Job ID numbers for positions currently open that are related to structural engineering:
Job ID 7569
Job ID 7362
Job ID 7363
Job ID 7425