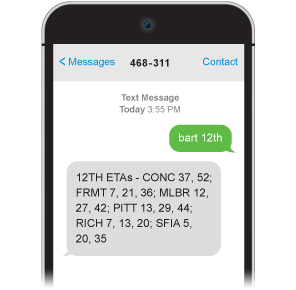 Request BART departures, service advisories and more from your mobile device. Just text the word "BART" and a command like "delay" to 468311 and we'll text you back.
WHAT ARE THE COMMANDS?
Text "BART help" to 468311 to get started or jump right in and text "BART" + your station name. There are more commands below, plus the system is learning new ones every day.
THE FINE PRINT
BART does not charge recipients to receive text messages. However, your carrier's message and data rates may apply. Read the comprehensive Terms and Conditions and the Privacy Policy. To unsubscribe text the word STOP to 468311. And remember: texting while driving (or even walking) can be dangerous, so be safe!
COMMANDS
This is a only a partial list. You can use full station names and common abbreviations, too! Format your message like "bart 12th" or bart + the command and send to 468311. Save 468311 to your contacts for quick reference.
REQUEST

COMMAND

Get Started

bart go

Contact Information

bart contact

Service Advisories

bart svc

Elevator Advisories

bart elev

Stop all Messages

stop

Start Messages (after stopping)

start

Help with Messaging

help

---

---

Full station names and common
abbreviations work, too:

12th St./Oakland City Center

bart 12th

16th St. Mission

bart 16th

19th St./Oakland

bart 19th

24th St. Mission

bart 24th

Ashby

bart ashb

Balboa Park

bart balb

Bay Fair

bart bayf

Castro Valley

bart cast

Civic Center

bart civc

Coliseum/Oakland Airport

bart cols

Colma

bart colm

Concord

bart conc

Daly City

bart daly

Downtown Berkeley

bart dbrk

Dublin/Pleasanton

bart dubl

El Cerrito del Norte

bart deln

El Cerrito Plaza

bart plza

Embarcadero

bart embr

Fremont

bart frmt

Fruitvale

bart ftvl

Glen Park

bart glen

Hayward

bart hayw

Lafayette

bart lafy

Lake Merritt

bart lake

MacArthur

bart mcar

Millbrae

bart mlbr

Montgomery St.

bart mont

North Berkeley

bart nbrk

North Concord/Martinez

bart ncon

Orinda

bart orin

Pittsburg/Bay Point

bart pitt

Pleasant Hill

bart phil

Powell St.

bart powl

Richmond

bart rich

Rockridge

bart rock

San Bruno

bart sbrn

San Leandro

bart sanl

SFO Airport

bart sfia

South Hayward

bart shay

South San Francisco

bart ssan

Union City

bart ucty

Walnut Creek

bart wcrk

West Dublin/Pleasanton

bart wdub

West Oakland

bart woak