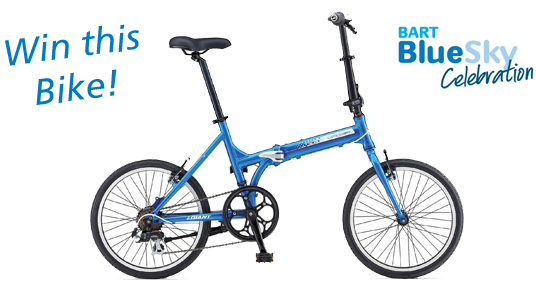 In honor of Earth Day, BART will be raffling eco-themed prizes each Wednesday in April. Check the BARTable Contest Page on April 1, 8, 15, and 22 to enter the weekly sweepstakes. By entering the weekly sweepstakes, you will automatically be entered to win the grand prize package: A Giant Expressway 2 folding bike; $100 Clipper card; 2 Ulocks and 2 tickets to the San Francisco Green Film Festival! The winner of the Grand Prize will be picked April 29, 2015.
This week's prizes include a City CarShare Membership, $100 Clipper card, 2 U-locks or tickets to the SF Green Film Festival. What are you waiting for? Enter the Week 1 sweepstakes today!
Don't forget to join BART for our fifth annual Blue Sky Festival on Wednesday, April 22, from 11 am to 1:30 pm at Justin Herman Plaza in San Francisco.
There will be environmental info and giveaways from more than 50 exhibitors, plus valet bicycle parking, a Segway obstacle course and carnival games with an eco-twist. Get a BART Blue Sky passport at the festival, fill it with stamps from six exhibitors and redeem it for a free $6 BART ticket. Click here to learn more.