Cooler than the other side of the pillow
"Birth of the cool" captures midcentury California hip at the Oakland Museum of California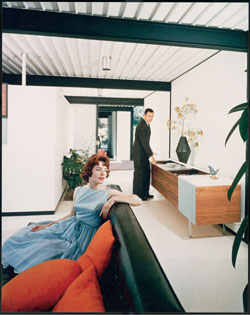 Julius Shulman, photograph of Case Study House #21 (Pierre Koenig, Los Angeles, 1958).
Back in the 1950s, BART was still on the drawing board and gasoline was only 24 cents a gallon. The hottest car on the road was a Plymouth Fury not a Prius Hybrid. And when it came to art, "modern" was just another word for "recent." But even in the 1950s, California set the standard for "cool" and it's captured today in "Birth of the Cool: California Art, Design, and Culture at Midcentury" now showing at the Oakland Museum of California, one block from the Lake Merritt BART station.
Through more than 150 objects, "Birth of the Cool" looks at a dynamic community of architects, designers, artists, filmmakers, and musicians who overlapped and interacted in Southern California at mid-century. An international roster of artists-many of whom made their way to the West Coast from various locations throughout Europe and North America-played a decisive role in the development of this influential and iconic style of high modernism. In the spirit of "cool" inspired by Miles Davis's 1957 Capitol Records release Birth of the Cool, the exhibition explores the affinities among these innovators of art, design, and style working on the West Coast in the postwar era.
"Birth of the Cool" features a jazz lounge; film, animation, and television clips throughout; furniture and architectural pottery; a period art gallery of hard-edge abstract paintings; selections of art, architectural, and documentary photography; and an interactive timeline that highlights examples of California, national, and international culture and history in the 1950s.
Take BART there:
"Birth of the Cool: California Art, Design, and Culture at Midcentury" at the The Oakland Museum of California through August 17, 2008. 1000 Oak Street at 10th, just one block from Lake Merritt BART Station. Open Wednesday through Saturday, 10 to 5; Sunday, 12 to 5 p.m.; first Friday of the month, 10 to 9. Admission is $8 for adults, $5 seniors and students with ID, free for kids five and under. For more information, call (510) 238-2200 or visit museumca.org.
BART / "Birth of the Cool" playlist
(Apple iTunes® required)