Win tickets to Outside Lands from BART ... and take public transit to get there!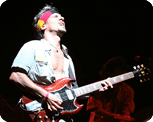 Don't have tickets yet for Outside Lands? There's still time to win them from BART. The music and arts festival Aug. 22-24 is encouraging people to take public transit to Golden Gate Park, and BART can help you get there.
Outside Lands has a stellar lineup of artists from all over the musical map, including Radiohead, Beck, M. Ward, Tom Petty and the Heartbreakers, Toots & the Maytals, Bon Iver, Jack Johnson, Widespread Panic, Wilco and Manu Chao (pictured at right).
For a complete schedule go to http://www.sfoutsidelands.com/.
The festival is promoting a "Greening" theme, with several initiatives to help reduce the impact on the environment. Walking, biking or using BART and Muni to get to the park are encouraged. There'll be an "Eco Lands" area where you can watch artists on a solar-powered stage, eat sustainably at an organic farmers market, educate yourself on energy efficiency and charge your cellphone with solar or wind power.
For a chance at free tickets, you just have to sign up for the weekly e-mail newsletter at www.mybart.org and enter the Outside Lands contest. The deadline to do it is 11:59 p.m. PDT on Sunday, Aug. 17. The weekly e-mail from myBART will tell you about other prizes you can win, from a $50 BART ticket to an airline ticket anywhere that Southwest Airlines flies. Drawings are held every week.
If you're taking BART to Outside Lands, you can get there by connecting on Muni from either Powell Street or Balboa Park station.
Take BART to Powell Street Station. From Powell Street and Market Street, take Muni Bus #5 to 25th Avenue and Fulton Street
Or, take BART to Balboa Park Station. Board Muni Bus #29 (Sunset to Golden Gate Park)
Special thanks to BART rider and bart.gov user Genie Gratto for recommending
the playlist above for listening to on your way to Outside Lands. Genie blogs at
http://www.theinadvertentgardener.com/ and is on Twitter at www.twitter.com/egratto. If
you'd like to recommend a playlist for a BART-related event just e-mail us.

Photo credit: This page and homepage thumbnail; Manu Chao at Coachella in 2007 by thetripwirenyc.