BART art posters feature whimsy and wonder from local artist Josh Ellingson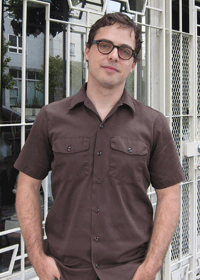 Photo of the artist by Xuan Lam
By Melissa Jordan
BART Senior Web Producer

New artwork in BART by local artist Josh Ellingson shows fantastic, surreal transit trips that are inspiring imagination and a sense of wonder in kids of all ages.

In one scene, a boy watches out the window of his BART car as spaceships zoom by, trailing flashes of light in their wake and mirroring the boy's own rocket toy on the seat beside him.

In another, a girl holding a cuddly duck toy in one hand passes through a BART faregate, hand-in-hand with her mother, who is just out of sight. The girl glances behind her to see a mother duck, feather-in-feather with her duckling. The duckling holds a doll that resembles the human girl.

In a third piece, a child descends on an escalator. He peers at the opposite escalator to spot, ascending – a deep-sea diver in full gear with a squid hitching a ride on his back, helpfully holding a BART ticket in one of its tentacles.


The series, called "First Ride," is the latest in BART's Poster Art Program, which aims to enhance the physical environment of BART stations and celebrate the wealth of artistic talent in the Bay Area. The posters appear without any slogans or messaging, as artwork would hang in any space.

Bay Area-based artist and illustrator Ellingson says he was drawn to the project because of the freedom it allowed him in storytelling, and the opportunity it provided to create artwork in a public transit system.

"I take BART all the time," he said, explaining that the textures, colors and perspectives of the different station interiors – such as the widely photographed space-age-looking white bubble tiles of Powell Street Station – influenced the pieces.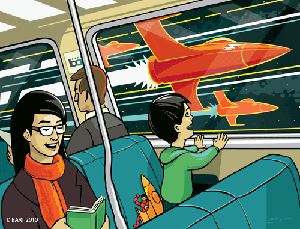 Ellingson hopes the dreamlike, fantasy scenes will appeal to adults and children alike, and perhaps take longtime riders back through BART's history to the system's start in the early 1970s, when it seemed futuristic, like something from Disney's Tomorrowland.

"I hope it will inspire people's imaginations by being absorbed in the pieces," as they walk through the stations, he said. "I think it's great that an organization like BART would take the initiative to showcase local artists."

Ellingson began his work on the pieces by traveling the system, snapping photos for reference. He typically then sketches in pencil, then transfers to a digital format that facilitates the brilliant color and sharpness at high resolution required for large posters.

With work that has appeared in Wired magazine, Popular Science and PC Magazine, Ellingson cites influences from popular culture, including science fiction, comic books and television. You might also catch his work at a ComicCon, or on the Laughing Squid popular culture blog. (The squid in the BART poster with the diver is an inside nod to Laughing Squid's Scott Beale, who was an early supporter of Ellingson's work.)

"People of my generation grew up with Saturday morning cartoons," Ellingson said, reflecting on the growth in popularity of the graphic illustration style, now widely seen in media from graphic novels to film to commercial advertising. "It's a great time for artists to do the kind of stuff that I do," he said.

Ellingson's posters are featured in various BART stations throughout the system in unused advertising space, and will remain there for the next several months. To see all three of the posters, visit our blog at www.posterous.com/sfbart.

To view more of Ellingson's portfolio, visit his website at www.joshuaellingson.com