Public gets first look at detailed concepts for BART's Fleet of the Future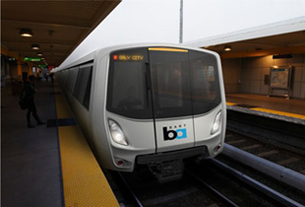 Exterior concept design
By MELISSA JORDAN
BART Senior Web Producer
The public is getting its first look at detailed concepts for BART's Fleet of the Future, new train cars designed by BMW Group DesignworksUSA to replace the oldest fleet in the nation.
BART has been gathering public input through a series of open house meetings, which ended in August, and through an online survey, which is now closed. You can still send feedback using this email feedback form. But keep in mind it's not a horse race to a single "top" choice, like a vote for president. The public can give feedback on what they like from any of three interior concepts -- and the end result will likely be a combination of the best of all three. There's also a snazzy new exterior concept.
All of the interior concepts keep the same number of seats as current BART trains, a result of BART listening to the feedback that came in through a public input process. The concepts differ more in their sense of style, and some of their specific features. Right now the interior concepts are labeled simply A, B and C –- and remember, features of any one could be switched or blended into any other. You can download PDFs that describe all the concepts in detail at the Fleet of the Future website.
THREE INTERIOR CONCEPTS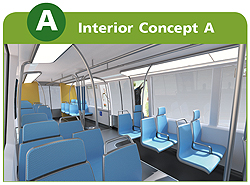 Let's start with Concept "A," which the designers have dubbed "Commuter Comfort." It has handholds and poles mounted on seat backs, floor-to-ceiling poles near the doors with tree-like branches for multiple people to grasp, bike racks on some cars, headrests on window seats, and digital informational displays at the top of some window areas.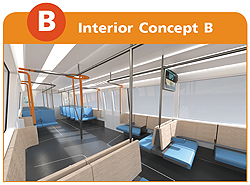 Then there's Concept "B," which the designers are calling "Work and Play." It has some informal, open-style lounge areas on each car, in addition to traditional commuter seats. There are no headrests, and the digital information is larger and located above some seat backs. Like Concept A, it has tree-like floor to ceiling poles near the doors, but this Concept is accented with a lighting element above the tree. The number of seats is the same as Concept "A."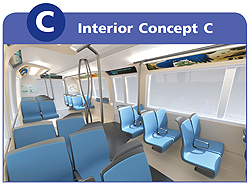 Now take a look at Concept "C", which was inspired by the idea of "Functional Art." There's a more artistic, wavy-top seat; an "S"-shaped elegant design for the floor-to-ceiling poles; and "portals" at the end of some cars so kids (of all ages!) can enjoy seeing the track and tunnel walls whiz by the front of the train as it speeds down the track. No headrests on this concept, but the seat count is again the same as Concept "A."
Any of the pole designs or digital info designs could be used in any of the concepts. A survey will ask about the interior seating configurations and the other features that riders like or dislike from all three concepts.
One thing applicable to all three concepts: There are wider aisles for easier in-and-out access, achieved from small trims in the seat width and leg room. BART listened to customer feedback from a number of seat labs, discarding the options that would have squeezed seat width and leg room too much; what was chosen is what a large majority of customers said they would find acceptable, and is still roomy, compared to most transit systems.
THREE COLOR PALETTES
Also applicable to all of the three concepts would be any of three color palettes. One palette is "natural" (think browns, greens, neutral); another is "bay and sky" (think blue, gray and sandy); the third is "diversity" (think vibrant rainbow colors that pop).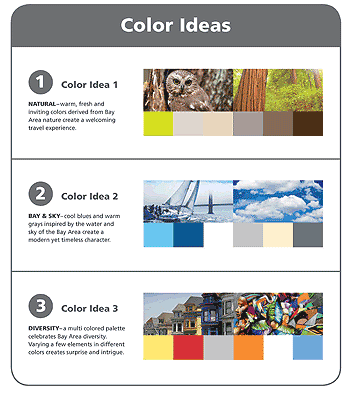 Finally, there's an exterior concept that truly goes where no BART train has gone before. It is sleek and modern in general look and has some striking new features. There are three doors rather than two -- to get people in and out faster. There are side panels where art from the community could be featured. And in one of the biggest changes, there's a color-coded digital display system on the front of the train. It would show not only the name of the end point destination (for example Pittsburg/Bay Point), but also have a big band of yellow, since that's the "yellow line." There are some other nifty new features, like energy-efficient LED lighting, state-of-the-art propulsion and regenerative braking and even an induction loop system that would transmit BART information to hearing aids and cochlear implants.
Now on BART TV
:

Preview a preliminary design of the next generation BART train
A presentation about the new concepts is planned for the Thursday, August 11, meeting of the BART Board of Directors. To view the agenda, go to the "Meetings and Agenda" section of www.bart.gov/board and select the agenda for August 11.
These concepts are still a work in progress, and will be refined after public input. After the concepts are finalized, the carbuilder BART selects will conduct formal design, engineering, and prototyping to refine the concepts even further, and the public will get another look at the results.
SEE THEM AT A MEETING OR IN STATIONS
If you want an up-close-and-in-person look at the current concepts, with detailed information about all the features, you can attend an open house and give feedback; there are nine scheduled for the month of August. Find out the complete schedule for community open house meetings, as well as for displays of the concepts inside of BART stations. You can also take an online survey to share your preferences, after reviewing all the concepts. Information on the meetings, the station exhibits and the survey is posted at www.bart.gov/cars.
It's critical that BART get new trains, because most of the fleet is made up of its original cars, and they will have been in service 40 years come September 2011. Many materials and components are near the end of their useful lives. Many are technologically obsolete. With the average car logging 110,000 miles a year, we need to move forward with replacement to avoid future breakdowns and service delays to the public. In addition – it's predicted BART will have 500,000 riders a day by 2035, according to the Metropolitan Transportation Commission. That's a huge jump from the typical 340,000 a day now, and more capacity than current trains can handle comfortably. If you recall the day of the San Francisco Giants World Series Victory Parade on November 3, 2010, that was BART's highest-ridership day ever at 522,198. Imagine crowds as large as that on a daily basis, and you'll see the need for new trains.
BART invites you to join in this journey and make your voice heard!
Updated September 1, 2011, with open house meetings now over and online survey closed.