Seen & heard on BART this week: carols, fake Chanel, E-40, meditation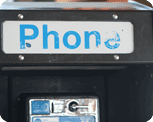 BART riders are a busy bunch -- taking trains to work, to play, to meet friends and travel around the Bay Area. While they're on BART they're gaming, crocheting, listening to music, reading and people-watching. Here's a fresh batch of things people saw and talked about on BART this week. We'll update this page every week so come back to see what people are doing on BART. We compile these from http://www.twitter.com/, the social networking and microblogging service where users share short messages or "tweets" about what they're doing. You can follow our Twitter feed at www.twitter.com/sfbart. We're also looking for rider-contributed photos like the one on this page from Flickr user kismet_70, of a real old-fashioned pay phone at the Fruitvale BART Station. Find out more about how to contribute photos.

Note: Seen & Heard on BART will be on hiatus through Jan. 8, 2013, for the holiday break. See you in the New Year!

Friday, Dec. 21:
My favorite Bart operator just sang us a Christmas Carol #holidays #christmas #joy#thereasonfortheseason
https://twitter.com/AllieDeaner/status/282164803785617408
Thursday, Dec. 20:
Fake Chanel Bag Lady upped her game with Fake Chanel Shoes. No picture because I'm blinded by the ugly #Bart
https://twitter.com/sonya415/status/28108389481882009
Wednesday, Dec. 19:
Just saw E-40 at the BART station in west oak. I was too slow this morning to get hyphy.
https://twitter.com/JustZoyaaa/status/281055355000213504
Tuesday, Dec. 18:
Having a staring contest with a baby on Bart
https://twitter.com/tobijwong/status/280792407124086786

Monday, Dec. 17:
Nothing like a little morning meditation on the bart train.
Friday, Dec. 14:
Started a David Bowie dance party on Bart. It was just a little one. But sassy. God bless those willing commuters. #letsdance

Wednesday, Dec. 12:
Jingle bells accordionist on @SFBART. Now that's a first
https://twitter.com/alykate/status/278677363015946241
Tuesday, Dec. 11:
It had been years since I rode public transportation... This was captured in San Fran... @ SFO Bart Station http://instagr.am/p/TGh2dOIloJ/
https://twitter.com/Clecoes/status/278530242769997825

Monday, Dec. 10:
"Good morning and happy Monday", says the Bart train operator
https://twitter.com/subwoofer/status/278176412475723776
Thursday, Dec. 6:
Dude on Bart literally asleep while still standing, wonder if he is gonna fall or not#bart #sf #commuters
https://twitter.com/NOT_PG_RATED/status/276354596711051265
Wednesday, Dec. 5:
There was a girl with no umbrella standing in the rain waiting for BART. I stood next to her so she could share mine.
https://twitter.com/RayningGame/status/276397703565570049