Fleet of the Future: Update on key features for new train cars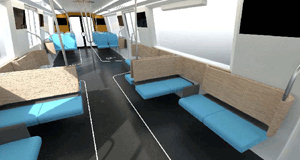 Interior concept from presentation
If you want to get an update on the very latest in BART's Fleet of the Future project, an effort to replace the oldest fleet of train cars in the nation, download the presentation (. pdf) that was made Wednesday, Jan. 11, at a meeting of the Metropolitan Transportation Commission.

The presentation includes the status of the schedule and budget for the project, as well as a list of 10 key design features to be incorporated in the new fleet, based on input from BART and the public: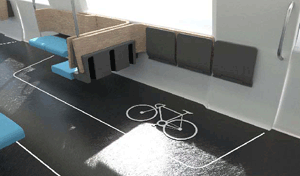 Concept for bike space from presentation
The 10 key features are:
1. Split train capability
2. Three doors on each car to make getting on and off faster and easier
3. Energy efficiency improvements
4. Exterior digital displays showing route color and destination
5. Better passenger information -- audio and visual
6. Noise and HVAC improvements
7. Easier to clean seats and floors
8. More handholds
9. More priority seating for seniors and people with disabilities
10. System to transmit BART info to hearing aids and cochlear implants
The presentation also includes conceptual images of what the exterior and interior of the new train cars could look like.

A more detailed description, including the full report on outreach conducted with the public, will be made available later at the website for the Fleet of the Future.