Introducing ... @SFBARTalert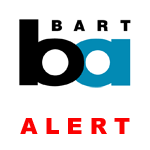 @SFBARTalert (beta) is a new Twitter feed to give you one thing and one thing only: the same automated service advisories that BART delivers via SMS subscription and SMS on-demand.
When we started the main @SFBART Twitter account back in July 2008 we never considered it an "official" channel for service advisories, mostly because:
Most @SFBART followers like the interactivity, the ability to ask questions, the fact that we follow back, and the more human, conversational tone. We manually tweet service advisories during business hours and on nights or weekends during major emergencies. But the @SFBART Twitter account doesn't post each and every service advisory at all hours.
As Twitter has evolved, we've heard from a few customers who'd like to receive all service advisories on Twitter, around the clock. They don't care about links to BART news, transit-related retweets or photos from other riders, or getting questions answered.
We listened. Now @SFBARTalert is your spot for 24-hour automated BART service advisories, but please be aware that it has some limitations:
@SFBARTalert won't answer questions -- that's because it's automated! It won't follow you back, either.
Because we're trying to keep it under 140 characters, we're using the four-letter station designations and other abbreviations -- the same ones we use on our SMS service if you want to check out the list.
If you use the @SFBARTalert feed itself for your updates, be sure to check the timestamp to make sure the alert you're viewing is current.
You may see an @SFBARTalert tweet that doesn't quite match your experience in the BART system, in the same way you might with other web, email or SMS channels. We do our best to provide the most accurate info but delays develop and change quickly. The automated Twitter feed will be as clear and complete as other BART Service Advisories, which are issued when more than one train is off schedule by 10 minutes or more.
You may ask yourself: Should I follow @SFBART, @SFBARTalert, or both? Well, it depends on what you want.
If you enjoy the breadth of content and interactivity on @SFBART, keep following it!
Add @SFBARTalert if you want to be sure you get all service advisories at all times. There may be some duplication during business hours but it won't happen as much as you might think – BART has a customer on-time service record of about 95%.
If you want nothing but automated service advisories through Twitter, follow @SFBARTalert only.
We're keeping this brand new service in beta for a while in case there are any bugs to work out. If you have any suggestions for improvement, give us a shout at @SFBART or email us.