Take BART to Yerba Buena Gardens Festival events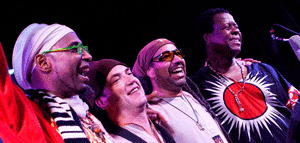 Omar Sosa Afreecanos Quartet
Three outdoor Stages. One hundred programs. Totally free!
The Yerba Buena Gardens Festival breathes a little rhythm and life into the parks and open spaces of Yerba Buena Gardens through their series of free cultural programs. From May to October enjoy free dance programs, Latin Jazz & Salsa performances, lunchtime concerts on Thursdays, Theater, Poetry, & Spoken Word performances and many other special events. The Festival kicks off on May 6 with a performance by the acclaimed Omar Sosa Afreecanos Quartet, which mixes Afro-Cuban musical styles with modern electronic elements and African instruments played by an international group of musicians. Bring your dancing shoes and enjoy yourself.

Closest BART Stations: Montgomery Street or Powell Street

Upcoming festival events include:
MAY
Omar Sosa Afreecanos Quartet Sunday, May 6, 1-2:30pm
Asian American Orchestra: Sanju – 30 Years of Asian American Jazz! Saturday, May 12, 1-2:30pm
Taiwan in the Gardens Sunday, May 13, 1-2:30pm
The Carpetbag Brigade + El Teatro Taller de Colombia Saturday, May 19, 1-2:30pm
Tango No. 9 Thursday, May 24, 12:30-1:30pm
Liturgy of Coltrane Saturday, May 26, 1-2:30pm
The Stairwell Sisters Thursday, May 31, 12:30-1:30pm
JUNE
The Congress Saturday, June 2, 1-2:30pm
Quinn DeVeaux Thursday, June 7, 12:30-1:30pm
Israel in the Gardens Sunday, June 10, 11am-5pm
Sweden's Jenny Lind Concert Thursday, June 14, 12:30-1:30pm
Native Contemporary Arts Festival Sunday, June 17, Noon-3pm
Artists Guild Exhibition Sunday, June 17, 9am-5pm
Marcus Shelby Hot 7 Thursday, June 21, 12:30-1:30pm
Josh Jones Latin Jazz Ensemble: A Tribute to Ray Barretto Saturday, June 23, 1-2:30pm
Dalia Marina Thursday, June 28, 12:30-1:30pm
Circus Bella Friday, June 29, Noon-1pm (special for day campers); Saturday, June 30, Noon-1pm & 2:15-3:15pm (2
performances)
JULY
Crosscut Thursday, July 5, 12:30-1:30pm
Merola Opera's Schwabacher Summer Concert Saturday, July 7, 2-4pm
La Sardina de Naiguatá + Rumbaché Sunday, July 8, 2012, 1–3pm
Gaucho Thursday, July 12, 12:30-1:30pm
AXIS Dance Company Saturday, July 14, 1-1:20pm, 1:50-2:10pm, 2:40-3pm (3 performances)
Cuban Cowboys Thursday, July 19, 12:30-1:30pm
Patrick Ball: The Flame of Love: The Legend of Tristan & Iseult Saturday, July 21, 1-2:30pm
Shotgun Wedding Quintet Thursday, July 26, 12:30-1:30pm
Nā Lei Hulu I Ka Wēkiu Saturday, July 28, 1-2:30pm
Darren Johnston Ensemble: Songs From Seven Miles – World Premiere Sunday July 29, 1-2:30pm
Programs and dates are subject to change. For the full list of events, visit www.ybgfestival.org.