Take BART to the 8th Annual Asian Heritage Street Celebration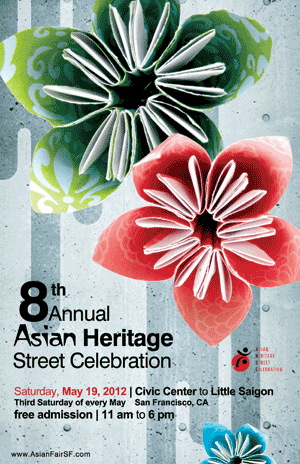 Celebrate Asian Pacific American Heritage Month at the 8th Annual Asian Heritage Street Celebration on Saturday, May 19th in San Francisco's Civic Center, in front of the Asian Art Museum. The event is free and open to the public.
The fair will feature a scrumptious collection of pan Asian delights and sweets, along with the Bay Area's favorite food trucks. You'll find spicy pork and bulgogi tacos from Seoul on Wheels, Filipino food like lumpia, BBQ, and more from Irma's, Koja Kitchen's Mochimisu (tiramisu layered with house-made chocolate mochi) and much more.
For the first time ever, the fair will feature celebrity cooking demonstrations, located at Eddy and Larkin Streets. Appearing throughout the day will be celebrity chef Martin Yan, The Slanted Door's owner and executive chef Charles Phan, co-owner of Nombe Restaurant Mari Takahashi, cookbook author Andrea Nguyen, chef Steve Cortez, and BBC America's Chef Kayne Raymond.
To start the day, Thai monks from Wat Buddhapradeep in San Bruno will perform a blessing at Fulton St. Stage at 10 a.m. Officially kicking off the fair at 11 a.m. will be the Faces of Asia Cultural Procession - a dazzling display of traditional ethnic attire with nearly 200 participants, organized by Au Co Vietnamese Cultural Center.
Popular returning fair features for include the Arts and Crafts World Market, the j-cars, the healthy living pavilion, cultural procession, free film screenings presented by the Center for Asian American Media, performances by Asian American artists, DJs, and martial arts experts as well as free admission to the Asian Art Museum, courtesy of Target.
A kids area will feature a FREE rock climbing wall and bouncy house, along with face painting and more.
For more info visit: www.asianfairsf.com.
Take BART to the Asian Heritage Street Celebration!
Closest BART station: Civic Center