Take BART to the San Francisco Symphony's Black and White Ball 2012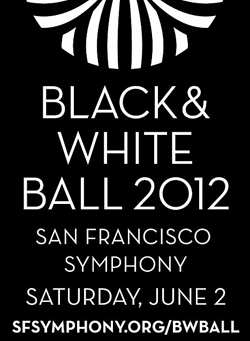 The San Francisco Symphony's Black & White Ball only comes around every other year, and 2012 promises to be quite the party! Don your finest black and white attire on Saturday, June 2, for an evening of music, food, and dancing in San Francisco's War Memorial Performing Arts Center and City Hall.
Start the evening with a concert featuring Grammy award-winning recording artist Paul Simon and his band, for the first time, with the San Francisco Symphony in Davies Symphony Hall. Party Pass holders can enjoy the concert as it is projected onto outdoor screens.
Don't forget to wear your dancing shoes - you'll get a little taste of everything at the six-decade dance party playing the greatest hits from the 50s, 60s, 70s, 80s, 90s, and today. Enjoy 10 live bands on five stages, including Cyndi Lauper, The Wallflowers, Janelle Monáe, The Drifters, Brenna Whitaker and her Little Big Band, DJ Masonic, Dr. Bobby Rodriguez LatinJazz Group and more.
There will be unlimited food and drinks all night as you party under the night sky, and get ready for the legendary midnight surprise—a Black & White Ball tradition!
The Black and White Ball benefits the Symphony's music education programs, which serve over 75,000 students in our Bay Area elementary, middle, and high schools each year.
For more information, visit www.bwball.com
Getting There:
Take BART to the Civic Center BART station. Exit at 8th and Market, and walk one block west on Grove to Civic Center Plaza. BART will run longer trains on the evening of May 22 to accommodate larger crowds. Make sure to use the BART QuickPlanner to plan your schedule so you don't miss your last train – the last trains of the evening depart Civic Center station around 12:20 a.m.
(NOTE: CONTEST NOW OVER)

BART gave some lucky contest winners a pair of Party Passes to the 2012 Black and White Ball. This includes entrance to the Black and White Ball at 9pm, a simulcast of the conclusion of the Paul Simon performance, all other entertainment, and unlimited food and drink all evening. The winners were:
Oleg G.
Tom H.
Cate C.
Alex S.
Jill E.