Latest transit art posters by Owen Smith bring literature alive on BART
By MELISSA JORDAN
BART Senior Web Producer

If you are walking through a BART station in coming weeks, lift your eyes from your mobile phone and take a look at those posters on the wall. Mixed in with the usual advertisements you may see something special : one-of-a-kind works by a world-class artist. Owen Smith creates art that defies labels; illustrations including 18 covers of The New Yorker magazine, Grammy Award-winning pop music packaging; mosaics, murals, sculpture. His art has been shown in galleries from New York to Milan.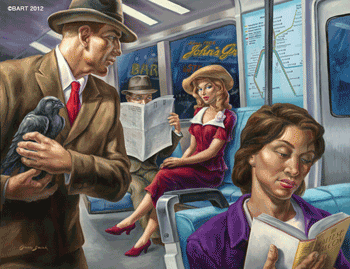 Amid that acclaim, Smith relished the opportunity to create the third in BART's transit poster series, as a Bay Area local who remembers taking BART as a youngster from home in Fremont to adventures exploring the big city of San Francisco.
"I like doing art that's accessible," Smith says. "I like gallery work, too, but the BART posters don't depend on someone going into a gallery to see them. It can be part of their daily lives, their daily commute."
Smith took the broad mission of the poster art program – providing riders with the opportunity to enjoy original artwork while traveling through the BART system – and pitched an idea inspired by literary icons with Bay Area connections. The series "Literary Journeys" depicts BART riders immersed in books by Dashiell Hammett, Jack London and Amy Tan, with scenes from the books coming to life in their imaginations. "I love the idea that there could be something interesting and different to look at while you are waiting for a train," Smith says.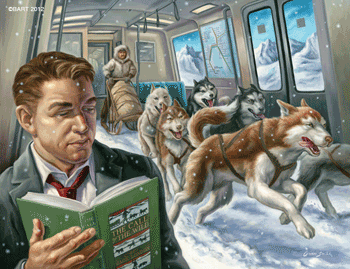 Smith's art posters – like the previous two series – contain no explicit messaging, which is an important concept of the series. "If it's a little mysterious, that's OK," he says.

Gina DeLorenzo, a member of BART's communications team who manages the poster program, said train stations provide "a unique gallery setting" for Smith's art. The posters, 60 in all, are placed in unused advertising spaces throughout the BART system. "We want the artist to really think about the rider experience, and then bring to it their own interests and interpretation," she said.

Smith's interpretation draws on one of the artistic styles he is best known for: lush, light-dappled, color-saturated figurative illustrations, recalling pulp fiction novels and pieces from the Works Projects Administration in the first part of the 20th century. Hammett has been a particular inspiration for Smith; in 2007 he designed six posters for the San Francisco Art Commission's Market Street Poster Program depicting the life and work of the hardboiled mystery writer.

His BART poster references The Maltese Falcon, Hammett's 1930 novel, later adapted for cinema with Humphrey Bogart playing the character of private dectective Sam Spade. In the poster, a rider reads the book while behind her a man in a dapper suit and hat, clutching a falcon, glances at a sultry siren in a red dress. Outside the BART window a sign flashes for John's Grill, the iconic Union Square restaurant that is a setting in the novel.

More surreal and fantastic, the poster homage to Jack London's classic 1903 novella The Call of the Wild shows a man reading the book as a musher in a parka drives a pack of sled dogs through snowdrifts down the aisle of a BART train, with white-peaked mountains outside the window.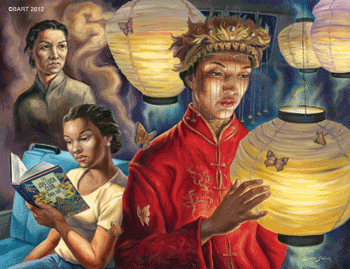 In the third poster, as a rider reads Tan's The Joy Luck Club, a young woman's face glows with golden light reflected from a lantern, while in the distance another woman looks on, suggesting the intergenerational themes of the 1989 best-selling novel by the Oakland-born author.
Together the posters are evocative, mysterious, eye-catching. Smith liked the idea that they conveyed a key benefit of public transportation – that a person can use time in transit to travel throughout space and time through the world of literature.
"You can spend your time reading on BART, whether it's a book or on your Kindle or iPad," Smith says.
Smith, who teaches at the California College of the Arts, has experience creating art for transit. He was commissioned to design a set of mosaic murals to be permanently installed in a New York subway station at 36th Street in Brooklyn. His work is also included as part of a current exhibit celebrating the Golden Gate Bridge anniversary (more info at www.georgekrevskygallery.com/dynamic/exhibit_detail.asp?ExhibitID=169 ). More information about the artist and his work can be found at his website, http://www.owensmithart.com