Late Friday and Saturday Night BART Express Bus Service
Proposed BART Yellow Line Express buses would make the following Eastbay Station stops:
Rockridge, Walnut Creek, Pleasant Hill, and Pittsburg/Bay Point
Proposed BART Green Line Express buses would make the following Eastbay Station stops:
Lake Merritt, Fruitvale, Bay Fair, Hayward, Union City, and Fremont
Stops were selected based on existing late night BART ridership, surveyed interest in service, and proximity to freeway/arterial off-ramps.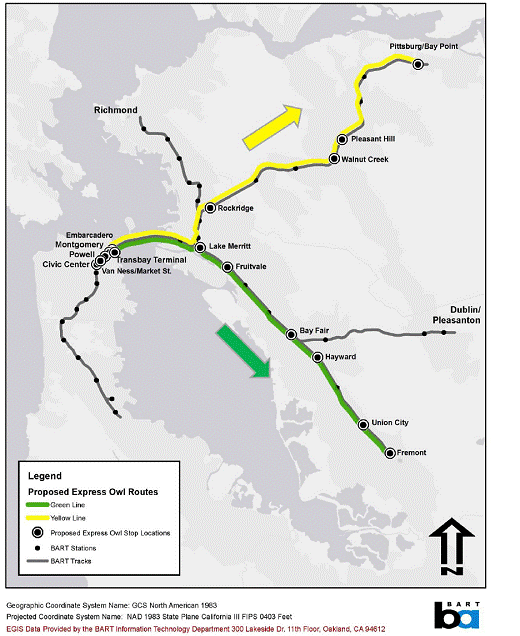 Yellow Line buses would be operated by County Connection and Green Line by AC Transit
BART Express bus service would run at 20 to 30 minute headways starting after BART train service shuts down, and would have its last run leave downtown SF at around 2AM
Last Yellow-line East-bound train stops at Embarcadero at 12:26AM on Friday & Saturday Night
Last Blue-line East-bound train stops at Embarcadero at 12:16AM on Friday & Saturday Night
Late Night Express buses would stop at Existing AC Transit Line 800 All Nighter SF Bus Stops:
Van Ness & Market (Van Ness Station) McCallister & Market (Civic Center Station)
Powell & Market (Powell Street Station) Kearny & Market (Montgomery Station)
Sutter & Market (Montgomery Station) Beale & Howard (Embarcadero Station)
BART will explore extending this service into the Mission District
AC Transit 800 All Nighter Service already serves the BART Red Line well with half-hour headways from 12:30AM to 6:00AM on weekends. It also stops at the West Oakland, 12th Street, 19th Street, and MacArthur BART Stations
One Year Pilot Project Budget is: $800,000 Total Cost
550,000 Bus Operator Contracts
125,000 Customer Service & Outreach
75,000 Signage, Bus Stop Improvements
50,000 Program Management
Funding Plan: $500,000 Alameda / Contra Costa CMA's ($298k/$202k)
200,000 BART Operating Budget
100,000 Fare Revenues ($4.20 per trip fare)
Project Status: Alameda and Contra Costa County funds have been approved by their CMA's. MTC has approved programming of these same funds. An MTC allocation will be requested once the survey is completed and the results are tabulated. Service will commence shortly after an agreement is then executed with the bus operators participating in the pilot.
Updated July 13, 2012 to clarify Friday and Saturday in title
Updated August 20, 2012 to add survey link