Go behind the scenes with a crew installing new vinyl BART seats
By MELISSA JORDAN
BART Senior Web Producer
It takes muscle and dexterity to rip the old seats out of a BART train and install new ones. At the Richmond maintenance yard where most of BART's new seats are being installed, there's a steady hum of sounds as an installation crew sets to work.
A forklift drops a box of new vinyl seats by the platform where a train car sits, its doors open, a breeze blowing through. One worker pops off old seat backs and bottoms, then another cleans debris out of the frame. Another snaps the new seats into place. Outside the car, another worker carefully places a decal on the outside of the car reading: "New Seats on Board."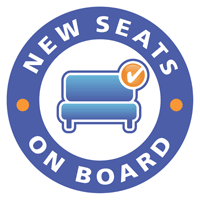 New Seats Decal
These new, easier-to-clean vinyl seats, ordered for 300 train cars and already installed on about 150 (out of a total fleet of 669) are proving very popular with riders. This crew installing the seats knows how much it means to riders; they are turning out an average of five or six cars per week.
Carmen Williams, one of the utility workers on the crew of six, drives a forklift to bring in the boxes that contain the new seats, and also helps install the seats. She said she enjoys seeing the results of her work on the faces of passengers.
"I use the train to come to work. So it's really nice to see people's eyes, they light up when they come in, and they make comments of how clean they are, and they're really happy, and I'm happy too, because the seats are clean and I sit on them to come to work. So I'm happy, and I know I'm a part of it."
Utility worker Nicholas Kanowksi strips the old seats out of the train cars and installs new ones. "Everyone has a job, and I think we work well and mesh together as a team, that's kind of how we've been producing this amount of cars, by working well and meshing," he said. "I'm really proud of it. I think that it really makes a difference for the public," Kanowski added. "The trains smell better; they're looking nicer. It's really great to give our customers what they deserve."
While most of the new vinyl seat installations have been done in Richmond, some have also been done in Hayward and other locations. Keeping the job of installing the new seats in the U.S. is another benefit to the community, and a priority as BART eventually replaces its oldest-in-the-nation fleet with entirely new train cars. The contract that has been awarded calls for the new fleet to be 100% assembled in America, with at least 66% American-made parts.
Lance Williams (no relation to Carmen) is the foreworker of this crew. He grew up in Richmond and his face beams when he talks about doing this work in the local community, with local people.
"It is one of my proudest times at BART to have a crew that is working so successfully," Williams said. "It's making the customers feel more comfortable, with the new vinyl seats, and knowing that they're able to ride on a much cleaner train."
Williams has a sense of history when he talks about the legacy of his hometown of Richmond, known for shipyards that produced more ships for the World War II effort than any other complex in the nation. He gave a makeshift civics lesson one day telling the women of his crew, some of whom were too young to remember, about the icon of Rosie the Riveter, depicting women factory workers who helped on production lines in the war effort. The Rosie the Riveter/World War II Home Front National Park is located nearby.
He said their dedication embodies the spirit of Rosie. "These ladies, and all of this crew, are working very hard to put in these new seats for BART customers," he said. "It's a happy time for me at BART right now having such a good crew."
The updated train cars have posters inside encouraging customers to "Have a Seat and Have a Say!" You can submit your feedback by emailing seats@bart.gov; by texting "BART Seats" and your comments to 468311; or by calling toll-free at 1-888-226-0242.
About 1,500 comments have been received so far, with about 90% of the comments being positive about the new vinyl seats. Feedback is still being accepted and will be used to inform decisions as BART moves forward with replacing the entire fleet.
With Labor Day approaching, Williams said he hoped that when BART riders sit on the new seats, they'll think about the workers behind the scenes who made it happen. "This crew never loses sight of the fact that they are working for the public, to give them a more comfortable ride," he said. "I want to recognize them for that."