Take BART to the 9th Annual Asian Heritage Street Celebration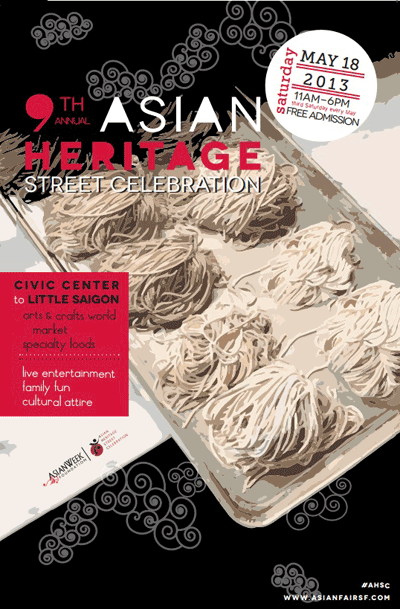 Celebrate Asian Pacific American Heritage Month at the 9th Annual Asian Heritage Street Celebration on Saturday, May 18th from 11a.m. to 6 p.m. in San Francisco's Civic Center. The event is free and open to the public.

Enjoy the sounds of the SF Pinoy Jazz Revue in the Arts and Crafts World Market. The Revue includes the music of tenor saxophonist Jonathan Bautista Quintet featuring Winston Raval on piano and the sounds of Kulintronica with guitarist and kulintang player Ron Quesada.

Learn how to cook delicious Asian dishes at the cooking demonstration stage located at Ellis and Larkin Streets. You'll see celebrity chef Martin Yan, along with Thomas Weibull of Velvet Room, Dennis Wong of Le Soleil, Mari Takahashi of Nombe Restaurant and Kyle Itani of Hopscotch. Luckily the food isn't just for watching – the Celebration boasts a scrumptious collection of pan Asian delights and sweets to eat, along with some of the Bay Area's most popular food trucks.

Watch colorful Asian ethnic attire parade through the streets in the Faces of Asia cultural procession at 11 a.m. Different ethnic groups come together to wear their cultural attire and share it with the public. In previous years, participants represented all types of Asian ethnic groups, including Burmese, Cambodian, Chinese, Filipino, Indonesian, Japanese, Korean, Laotian, Singaporean, Thai and Vietnamese.

The Asian Art Museum has partnered with Target to offer free general admission to the museum on Saturday, though entrance to the special exhibition of China's Terracotta Warriors will cost $10. In addition to the Asian Art Museum's regular exhibits, there will be special programming taking place in the Samsung Hall, including the AHSC Cinema Showcase from 2 p.m. to 4 p.m. Watch a collection of short films and music videos as a nod to the vibrant Asian American media arts scene here in the Bay Area. (Presented by the Center for Asian American Media and 3rd i Film Festival)

You can also enjoy a vibrant the Arts and Crafts section with vendors specializing in Asian and Asian-influenced items, a Healthy Living Pavilion with free screenings, giveaways and health consultations, a Natural Medicine section where internationally renowned Qigong/Traditional Chinese Medicine and Natural Healing experts are available for consultation, and a children's area with family-friendly carnival rides, community services, and games for children.
For more info visit: www.asianfairsf.com.
Take BART to the Asian Heritage Street Celebration!
Closest BART station: Civic Center