BART to run round-the-clock during Labor Day weekend Bay Bridge closure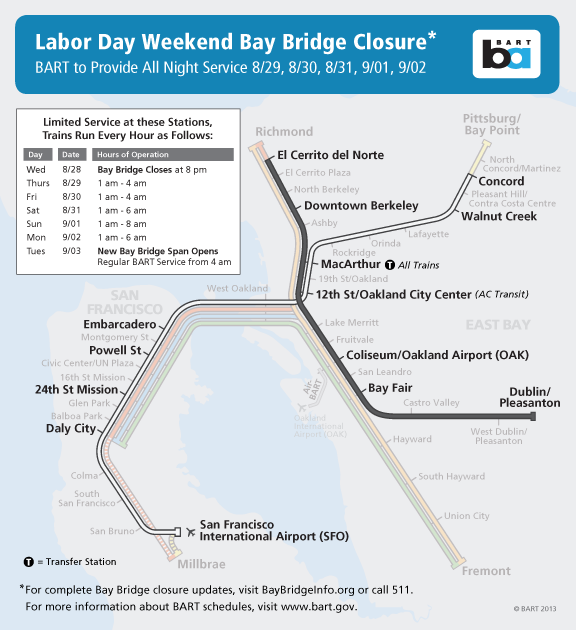 BART will be open while the Bay Bridge is closed over Labor Day Weekend. BART will run trains on a 24 hour basis beginning the night of Wednesday, August 28th until the night of Monday, September 2nd. BART resumes normal weekday service at about 4 am on Tuesday, September 3rd.
The overnight trains will operate hourly on a two route modified "X" service serving 14 stations, with trains between Concord and San Francisco International Airport forming one line of the X and trains between El Cerrito del Norte and Dublin/Pleasanton forming the other line. All trains will meet at MacArthur Station, where passengers may transfer to reach any of the 14 stations that will be open around the clock. See above for a map of the stations that will be open and the overnight train schedule. Customers using the overnight service should select a station that will be open when planning their trip and for parking.

Download the service timetable (.pdf).
Trains will not run overnight Monday into Tuesday so BART may carry out required maintenance work and inspections.
During regular service hours, BART will increase its passenger capacity by running longer trains all day and will adjust train service to match needs for weekend events, including A's home games, Cal Bears football and America's Cup finals.
Ridership is expected to increase significantly compared to other holiday weekends due to the bridge closure. For example, during the 2009 Labor Day weekend five day Bay Bridge closure, BART carried an extra 230,000 riders compared to the same five day period in 2008, a 30% increase.
During Labor Day Monday, BART will operate on a Saturday schedule. BART parking is available during the Bay Bridge closure however all BART parking regulations will be enforced. The daily parking fee will apply Wednesday, Thursday and Friday of the bridge closure and drivers who don't have monthly or long term permits are reminded to park in the "fee" parking areas, not the "reserved" or "permit" areas. Parking will be free on Saturday, Sunday and Monday. For more information about parking at BART stations, visit www.bart.gov/parking
BART Service Highlights
24 hour service between 14 stations
Overnight trains will run on an hourly basis
All trains will transfer at MacArthur Station
No overnight service Tuesday morning
Saturday schedule on Labor Day Monday
More Bay Bridge info can be obtained at www.baybridgeinfo.org
The 14 stations open for limited 24-hour service are:

12th St./Oakland City Center
24th St. Mission
Bay Fair
Coliseum/Oakland Airport
Concord
Daly City
Downtown Berkeley
Dublin/Pleasanton
El Cerrito del Norte
Embarcadero
MacArthur
Powell
SFO
Walnut Creek
WHY BART DOESN'T OFFER 24-HOUR SERVICE ALL THE TIME
BART does not provide regular 24-hour service because many safety-sensitive, essential and/or California Public Utilities Commission mandated maintenance work can only take place when the trains are not running. The 24-hour service during the Bay Bridge closure will mean that BART will have to play catch-up on essential maintenance work. Unlike some public transit systems with multiple sets of tracks on the same routes, BART doesn't have the duplication that would allow us to run trains on one set while performing maintenance on another.
Updated Tuesday, Aug. 27, with additional info.