President Obama to award Medal of Honor to BART worker's son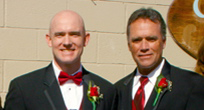 Ty Carter (left) and his father, Mark
President Barack Obama is scheduled to award the Medal of Honor today to Army Staff Sergeant Ty Michael Carter, an Antioch native whose father Mark is a BART electrician.
Mark is in Washington, D.C. to see his son receive the nation's highest military honor, but his regular routine involves working overnight at the Oakland Shops Complex as part of a team that keeps BART running.
"Mark Carter and his son Ty represent the best in the people associated with BART," said BART Director Joel Keller, who represents eastern Contra Costa County. "Mark exemplifies dedication by working when most of us are at home sleeping comfortably; there's no doubt his son has proven his dedication as a proud Soldier."
The official Army narrative describes Ty Carter's actions on a battlefield of Afghanistan as above and beyond the call of duty on October 3, 2009. "Without regard to his own safety, Spc. Ty Michael Carter…valiantly risked his own life to save a fellow Soldier who was injured and pinned down by overwhelming enemy fire," the U.S. Army writes.
The Medal of Honor is the nation's highest medal for valor. SSGT. Carter will become just the fifth living Medal of Honor recipient for actions in Afghanistan.