BART will run til 3 am on New Year's Eve
BART will extend service until 3 am on New Year's Eve and deploy extra staff and trains to help get people home from their festivities. BART will run a normal weekday evening service schedule which will extend until 3 am. Trains will run every 20 minutes after midnight with extra trains standing by in downtown San Francisco after the fireworks show.
To further ease platform crowding at our busiest stations, Embarcadero, Montgomery, and West Oakland, beginning at 8 pm, BART will utilize a "skip-stop" train pattern into and out of San Francisco with one important change from past years: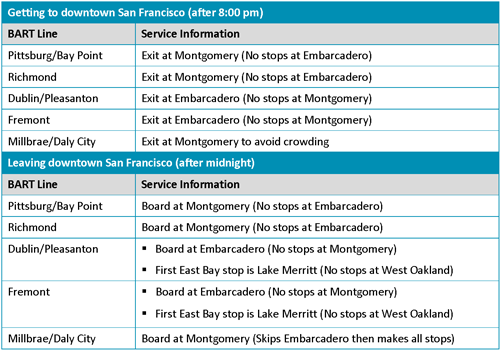 Going into San Francisco:
Trains from the Pittsburg/Bay Point and Richmond lines heading into San Francisco will not stop at Embarcadero Station. The San Francisco stop closest to the fireworks show for customers on the Pittsburg/Bay Point and Richmond lines will be Montgomery Street Station.
Trains from the Dublin/Pleasanton and Fremont lines will not stop at Montgomery Street Station but will stop at Embarcadero Station.
Trains from Millbrae and Daly City will make all stops in San Francisco.
After the fireworks end:
Passengers bound for Pittsburg/Bay Point and Richmond must use Montgomery Street Station. Trains on these lines will not stop at Embarcadero Station on their way out of San Francisco.
Passengers on the Dublin/ Pleasanton and Fremont lines must use Embarcadero Station, as trains heading to Dublin/Pleasanton and Fremont will not stop at Montgomery Street Station. NEW THIS YEAR: Dublin/Pleasanton and Fremont trains will not stop at West Oakland and will make their first East Bay stop at Lake Merritt.
Millbrae and Daly City-bound trains will skip Embarcadero then make all stops. BART will direct passengers on those lines to use Montgomery Street Station which will be less crowded.

Stay Informed
Passengers can check "Real Time Departures" on their mobile phone (http://m.bart.gov) to see when the next train is leaving or text "BART go" to 468311. A public timetable for New Year's Eve BART Service (.pdf) is also available.
Purchase Round-trip Tickets or Load Cash Value on Clipper Card
To avoid lines at ticket machines, BART is encouraging customers to purchase round-trip tickets in advance. Additionally, customers who use the Clipper Card should pre-load it with cash so it can be used on any participating transit system that accepts Clipper (www.clippercard.org).
Leave Bikes and Pets at Home
To ensure everyone traveling on BART can do so safely and comfortably, BART will rigorously enforce its rules regarding bikes and pets. Trains will be full on New Year's Eve, which is why BART encourages customers to leave bikes and pets at home. Non-folding bikes are never allowed on a crowded car or in the first car of any train regardless of how empty it may be. BART riders are also reminded that there is no eating or drinking allowed on trains.
Increased Staff
BART will have about a hundred yellow vested employees standing by at station entrances and platforms to help direct passengers to the appropriate stations. Extra station agents will be on hand at downtown stations to assist customers. BART Police, train technicians, ticket/add fare machine technicians, emergency medical technicians, system service workers, and elevator/escalator repair technicians will be strategically placed to help respond to problems.
Sunday Service on New Year's Day
On New Year's Day, Wednesday, January 1, 2014, BART will operate on a Holiday/Sunday timetable with service beginning at 8 am.