Bay Area police training exchange with Philippines builds on Pinoy pride, professionalism
Watch a video slideshow with images from P.E.T. training trips.
By MELISSA JORDAN
BART Senior Web Producer
For the BART Police Officers who go on an annual training exchange program in the Philippines, it is difficult to choose just one most meaningful or memorable moment.
There are so, so many.
The time a donated protective vest, too old by U.S. standards to use here anymore, saved the life of an officer in the island nation, where officer resources are, generally, far fewer, and donated supplies are greatly appreciated.
The time Philippine National Police (PNP) officers waited for more than an hour, standing at attention in their full formal ceremonial uniforms, out of respect to wait for the visiting Bay Area group, which was stuck in traffic.
The time a little boy at an orphanage, allowed to choose one small toy from charitable donations raised by the Bay Area delegation, took the hand of the BART officer, called him kuya, a word of endearment for a trusted big brother figure, and asked him to play.
PROGRAM ENTERS 15TH YEAR
The program, known as the Philippine Exchange Training (P.E.T.) program, enters its 15th year in 2015 when a delegation will leave on Jan. 14 for the 17-hour flight. P.E.T. is a program of the Filipino-American Law Enforcement Officers Association (FALEO), that was started in 2000 as an idea from some Filipino-American San Francisco Police Department Officers.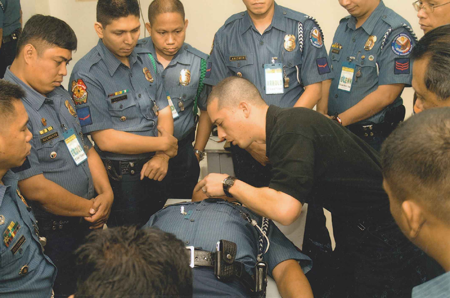 BART Police Officer Shaun O'Connor demonstrates basic life support technique
BART Officers have been participating since 2010. They use 100% of their own funds to pay for the trip and their own vacation or personal time off; it is not funded in any way by BART.
BART Police Officer Shaun O'Connor, who is of Filipino heritage, went on the first trip in 2010 and is going again in 2015.
"Words can't begin to describe what this trip has meant to me," he said. "In the spirit of sharing, we hope to help them, and bring back things that can help us in our work as well."
CULTURAL CONNECTIONS ABOUND
It is notable that the Bay Area has one of the largest concentrations of Filipinos outside the Philippines, so ties to the region are longstanding and deep. Many individuals go back and forth to visit family members there; many more emigrate here; and there is a cultural connectedness, a "Pinoy pride," that transcends distance.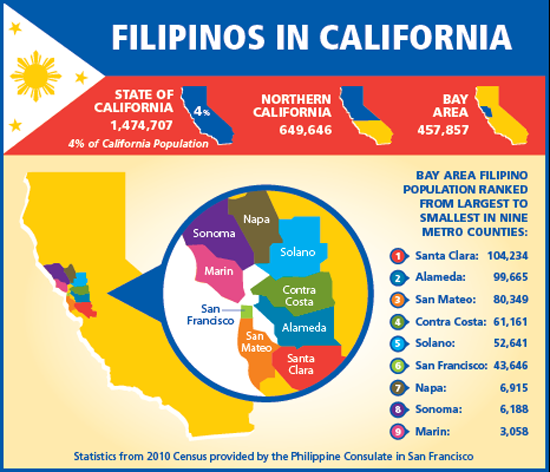 "Even though it is a world away, they face many of the same challenges we do," said retired BART Police Lt. Gary Cagaanan, also a Filipino-American, who has also been on the exchange trip. "They deal with crime, terrorism, crowd control, and because the transit system is very important there, they are interested in our experiences as transit police."
The exchange is not limited to officers of Filipino backgrounds; BART Police Officer Eric Poindexter, who is also a training instructor at the police academy here, went without knowing much about the language or history but wanted to contribute and to learn. He is going again in 2015.
"Every time I teach, I see a possible different way to do things. We can all improve, every one of us," he says. "One of my goals was finding things I could take back to my officers." Poindexter said the resourcefulness of the PNP officers is one of the things that struck him the most."I'm amazed at how well they can do their jobs despite a lack of resources, and not complain about it," he said.
TIES THAT BIND
Cliff Valdehueza, a Filipino-American BART Police Officer, said the close ties between the Bay Area and the Philippines make the exchange especially important.
"A lot of their people come here, and if they don't trust the police there, they won't trust our police when they are here," he said. "So by teaching best practices and increasing their trust level, we are building bonds even before they come here."
BART Police Chief Kenton Rainey said the program reflects the officers' dedication to their mission.
"This is just another example of our officers' commitment to service and their belief in the Community Oriented Policing and Problem Solving (COPPS) philosophy," Rainey said.
The size and range of the PNP is almost beyond comprehension; 150,000 officers, far and away more than any single U.S. police force, with a jurisdiction over the more than 7,000 islands that make up the Philippines; a dizzying mix from dense urban cores to sparsely populated, remote islands.

A TWO-WAY EXCHANGE
PNP Police Chief Inspector Philip Maraggun, by telephone from Manila, said crowd control and disaster preparedness are two of the areas where his officers can share learning with the U.S police.
"We have been struck by many natural disasters, from typhoons to earthquakes," he said. "We hope they can learn from our experiences."
This January, the Philippines plans to host a visit of Pope Francis, attracting crowds of millions in the nation with many Catholics and very high population density in urban areas. The papal visit will overlap with the P.E.T. trip, giving the Bay Area officers another opportunity for an up-close look at crowd control.
"This program is so touching to the lives of ordinary people here in the Philippines," Maraggun said. "We have been moved by the kindness in the hearts of your people."
Gareth Jones, a former police sergeant with London's Metropolitan Police who now works for the Office of the Ombudsman of Ontario in Canada, has experience in police training internationally. He said programs such as P.E.T. can be valuable tools in improving policing. "It can be a hugely beneficial, symbiotic relationship," he said. "Some of these nations' police services are operating with a level of difficulty that is not conducive to good policing. Things like bribery, corruption may be common. But you cannot cast a blanket 'They're all corrupt' -- quite the contrary. In spite of all the obstacles that they deal with, simply not having much of the stuff we take for granted, they have many dedicated officers." Jones said he was especially impressed that the P.E.T. program is self-funded.
A HUMBLING EXPERIENCE
Retired SFPD Lt. Eric Quema, who was born and raised in the Bay Area but spent time in the Philippines as a child, is a founder and director of the P.E.T. program and said it has grown beyond what he ever imagined.
"There will be standing room only when we go to do a training," he said. "You see these faces hanging on every word. It has spread beyond police to businesses, private security, schools, senior centers, orphanages. It is very humbling."
Jaime Ascalon, Deputy Consul General with the Philippine Consulate General in San Francisco, praised the program. "For us, it is very important. They have helped a lot in training our Filipino police officers and introducing them to new strategies and new ways of doing police work."
DIVIDENDS FOR ALL
PNP Police Senior Superintendent Lyndon Cubos, also based at the consulate in San Francisco, said the program is a model example of how to do such an exchange. "We learn from them and they learn from us," he said. "We deeply appreciate the donated supplies and equipment, which our organization can't afford to procure, and we put them to good use."
He noted that before 1986, police in the Philippines were part of the military. So they have very different historical and cultural influences, coming from a nation with ancient ties to China, 500 years of colonization by Spain and then decades of U.S. colonization before gaining independence. "Our police have long dealt not only with criminality but with the rise of different terrorist groups," he said. "Our organization is national in scope and is very large, which presents a different set of challenges."
At the heart, however, everyone involved with the program agreed that the impact of face-to-face contact, of long days spent in training, along with bonding with one another as human beings, improves relationships and pays dividends for residents of the Philippines and the Bay Area.
"It's a very important network that we are building," Superintendent Cubos said.
FILIPINOS IN CALIFORNIA
(Statistics from 2010 Census as provided by Consulate)
Whole of California : 1,474,707(4% of total California population)
Northern California: 649,646
Bay Area: 457,857
The Philippine Consulate in San Francisco covers Northern California (and 9 other states).
Bay Area breakdown ranked from largest to smallest of nine metro counties:
Santa Clara - 104,234
Alameda - 99,665
San Mateo - 80,349
Contra Costa - 61,161
Solano - 52,641
San Francisco - 43,646
Napa - 6,915
Sonoma - 6,188
Marin - 3,058