Police, Station Agent team up to arrest suspected catalytic converter thieves
Two suspected catalytic converter thieves are behind bars today thanks to an eagle-eyed BART Station Agent and the quick response of BART Police.
The events leading up to the two arrests began at about 9:40 Tuesday morning at Union City BART Station. A Station Agent, Luther McGill Sr. of San Lorenzo, called BART Police to report that he saw a man under a parked vehicle who appeared to be working on the car. A few minutes later, the male removed an object from underneath the vehicle. He then got into a vehicle with another suspect and drove from the lot.
The Station Agent was able to provide a description of the vehicle and the suspects for responding officers. He was also able to provide the license plate of the suspect vehicle.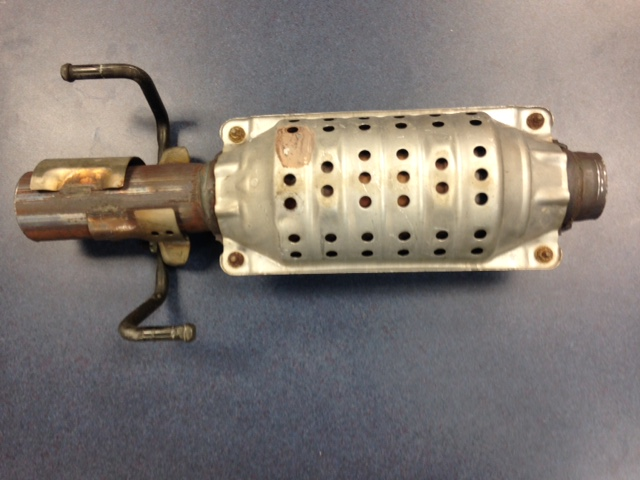 Responding officers located the suspect vehicle and conducted a traffic stop. The vehicle was found to contain three catalytic converters (one of which is pictured left) and the tools used to take them.
The Station Agent witness positively identified the suspect vehicle and the two suspects. Detectives were called and responded to interview the suspects, Cedric Choyce and Michael Tillis pictured below, who were booked into the Santa Rita Jail.
BART investigators are asking anyone who has more information regarding recent catalytic converter thefts to call them at (510) 464-7040.
To prevent catalytic converter theft, experts suggest the following tips:
Always park in well-lighted areas;
At shopping centers and other similar parking lots, park near the entrance or near an access road where there's lots of traffic;
Engrave your license plate number on the converter to make it traceable;
Buy a vehicle security system and make sure it's set to trigger with slight motion;
Have an auto body shop or muffler shop secure the converter to the frame.