Podcast: Field trips on BART bring excitement and great memories
In our latest episode of "Hidden Tracks: Stories from BART" we visit Ocean View Elementary School in Albany where Isabel Cohen's fourth graders are getting ready to ride BART to a pair of field trips. The kids are excited for their big trips and Ms. Cohen is looking forward to sharing her lifelong experience of riding BART with her students. We also learn about the discount plan BART offers for class field trips that opens the door to all kinds of possibilities for Bay Area schools. You can learn more about student group sales here.
Our podcast series is available on SoundCloud, iTunes, Google Play and Stitcher.
Transcript below:
---
"Do you like field trips? YES!"
Who doesn't?
Isabel Cohen is getting ready to take her 4th grade class at Ocean View Elementary School in Albany on a pair of field trips.
Cohen says getting ready for the trips has brought back fond memories.
"The primary thing I remember about growing up is BART had such a positive connotation because every time we knew we were going to go on BART to the city we knew it was going to be something extra special."
The kids are already feeling that excitement.
They'll get to take BART to the Oakland Museum of California and Mission Dolores in San Francisco.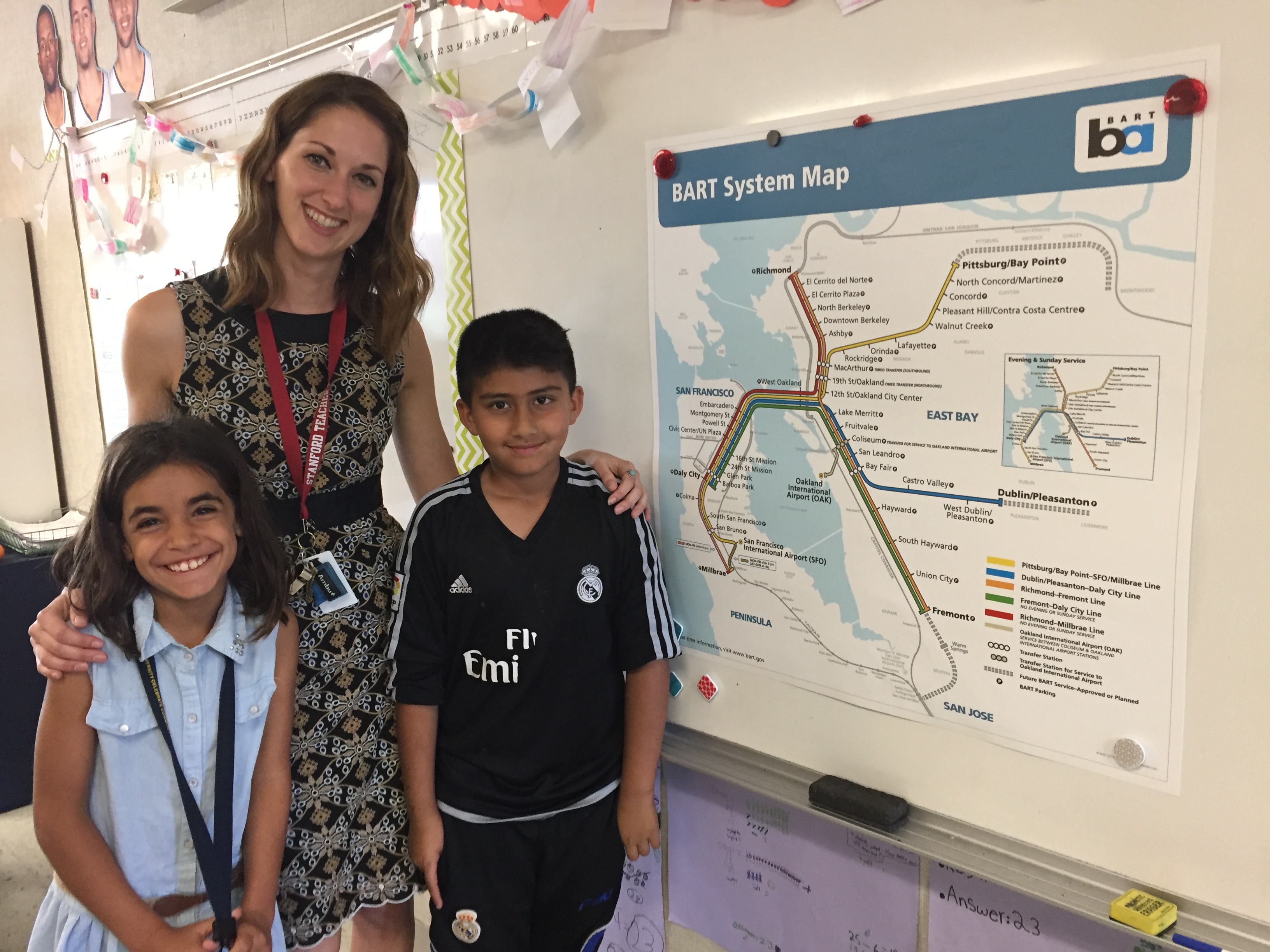 "How fast do you think a BART train can go, what's the fastest? 5,000 miles. That would be super duper fast."
Alicia Trost from BART's Communications Office stopped by Ocean View to tell Ms Cohen's fourth graders what they can expect on a train.
"The most important thing is when you go on the train with your fellow classmates everyone has to stay together. You can not play on the escalators."
And then there's that whole balance thing.
"When it starts and stops you might fall down. So my number one key to remember, you have to pretend like your surfing."
The kids thought that was great advice.
"Thank you!"
Sansar Chaulagain can't wait to go.
"Really exciting because you can like stay in one place and two people can stand up."
But Sansar says it's also good to know the rules.
"You shouldn't like play around, horse around because you might fall down and get badly hurt."
Adi Sharvit has been on BART before with her parents but thinks it'll be special to go on a trip with her friends.
"It's like a very fast moving train. It feels like a hundred times faster than my car."
Cohen says it will be great for her students to visit their destinations…but she says there are also valuable lessons in the journeys ahead.
"I think it's really vital to introduce kids to their surrounding areas and help them get to know their relative location. We're also doing California history in fourth grade and the first whole unit is based on geography so this works perfectly with helping them to orient themselves in the state."
BART is making it easier for classes across the Bay Area to do just that.
Teachers can apply for a group discount for field trips. Students under the age of 18 can save more than 60 percent off the price of a normal ticket.
Cohen says without BART and its savings plan, taking her class on a field trip would be a real challenge.
"I think it would be pretty difficult financially because with our field trips we need to write grants to go to the Albany Education Fund and BART offers us a more affordable way to get there."
And Cohen's class is far from the only one planning to use BART to get to field trips.
Bay Area Children's Theater, the Exploratorium and California Shakespeare Theater are among the popular field trip destinations that are BARTable.
You can get more info on our discount plan for class field trips at BART.gov