An interview with the BARTmobile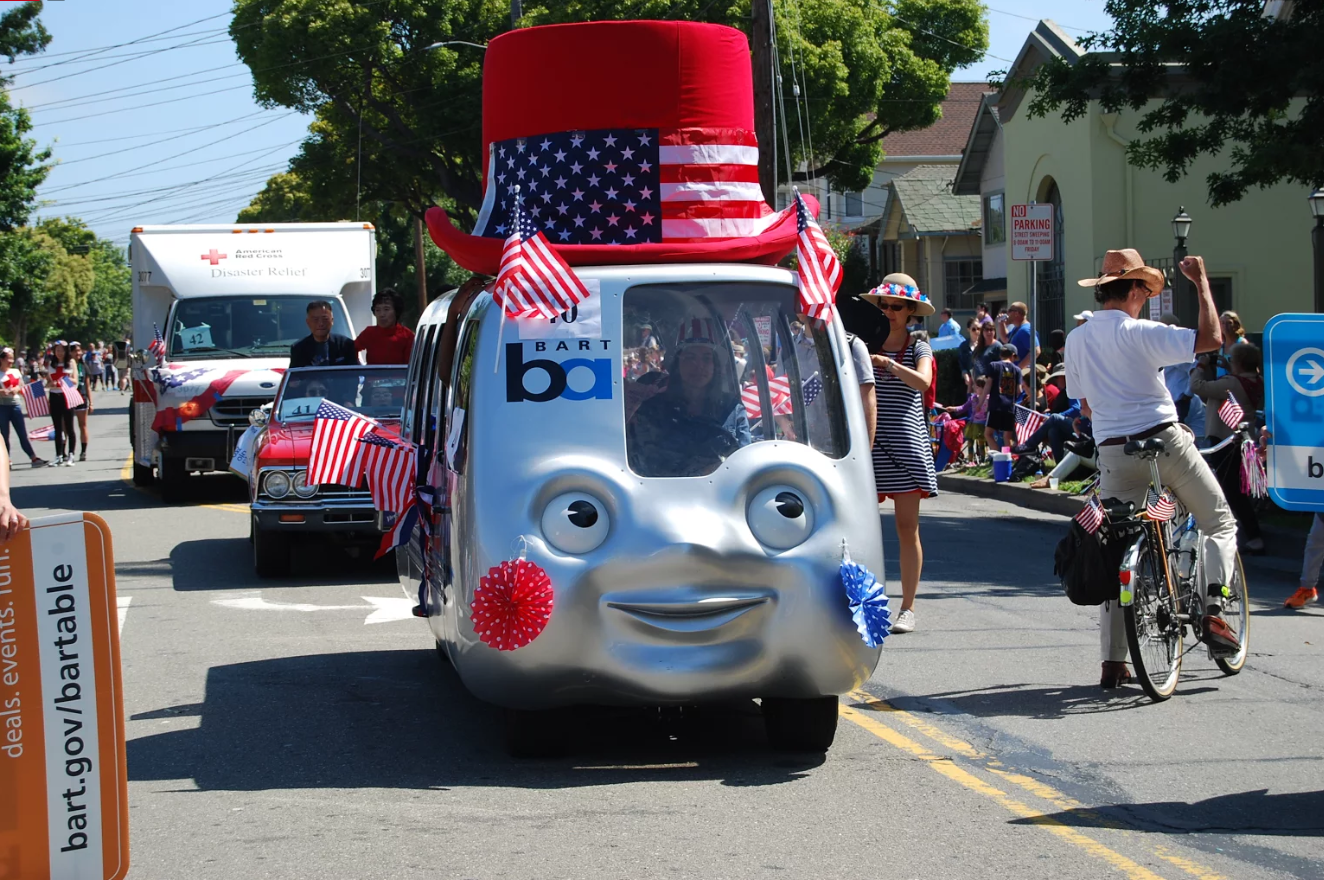 The BARTmobile, above, in the Alameda 4th of July Parade on July 4, 2017
By JIAHAO HUANG
BART Communications Intern
Ever notice this cute fellow at festivals and parades?
Say hello to the BARTMobile, the adorable little sibling of the BART fleet. Known for spreading joy in events such as the Pride Parade and the Pistahan Festival, the BARTMobile has been a part of the BART family for years.
We had a chance to interview the BARTMobile before its next appearance, Tuesday at the Fourth of July Parade in Alameda -- which is one of the longest Independence Day parades in the nation, with over 160 floats and 2,500 participants along the 3-mile-long route.
Q. So, let's start off with a simple question. How old are you?
A. Thanks for inviting me here! I am 13 years old.
Q. That's quite impressive! Most 13-year-olds I know haven't had a chance to spread joy to millions of people.
A. Oh, it's nothing. *blushes*
Q. Anyway, let's get back to the interview. What powers you?
A. Like BART trains, I am electric.
Q. So, like BART, you're helping keep our environment clean. What materials are you made of?

A. My exterior consists of a fiberglass body, while my interior is made of plastic, metal, and happiness.
Q. And I would expect you to have lots of friends as well, with that charming attitude of yours.
A. Oh, definitely! I'm friends with trains from Capital Corridor and LA Metro. And who could forget my old friend, Thomas the Tank Engine.
Q. Are you friends with any other celebrity vehicles?

A. You mean like Lightning McQueen and Mack from Pixar's "Cars"? I don't hang out with the gas-guzzling crowd too much. But I like Hot Wheels.
Q. Now, moving on. What inspired your birth?
A. After seeing so many parades with no BART presence, we decided that it was time to join in the fun. At first, we used a few other types of electric automobiles. But we wanted something more specifically representative of BART.
Q. When did you come into the picture?
A. BART started working with moonlighting staff of Industrial Light and Magic (also the Special Visual Effects team for the original Star Wars movies!) to produce models for my design. After three years of construction, I was born. (Funded through a partnership at the time with Commuter Check.)
My creators blessed me with a high-amp external stereo system. Keen eyes and ears may have noticed that my backmost bench is actually the subwoofer of the system.
Q. That's quite interesting! Your design sure seems round and friendly.
A. Our goal was to make BART more human to our loyal customers. Children especially seem to enjoy saying hello! If they want their very own BART train, small plush toys of a BART train are for sale at the Lake Merritt Customer Service Center.

These are some early models of the BARTmobile en route to today's version.
Q. Who gets to ride in the BARTmobile?

A. BART staff and family volunteer their time to show pride in BART and in their communities.
Q. What do you think about the upcoming Fleet of the Future, new train cars scheduled to start service later this year?
A. I'm looking forward to being joined by our Fleet of the Future. It has tons of great new features. I'll still have my old-school-BART look, though.
Q. Thank you so much for your time.
A. You're welcome! *beep beep*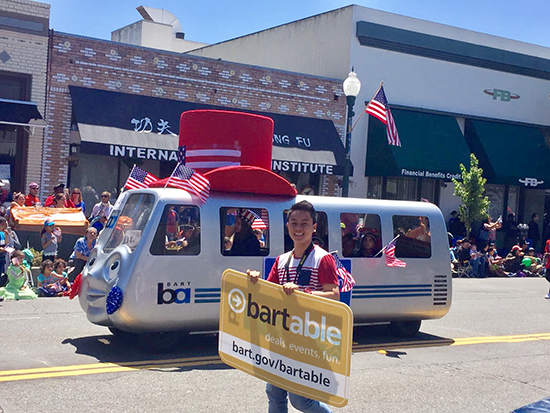 The author, pictured above with a bartable sign walking along the BARTmobile in the City of Alameda's Fourth of July Parade 2017
To find out where the BARTmobile will be appearing, and get lots of good deals on special events all around the Bay Area that are accessible by BART, follow @SFBARTable on Twitter and sign up for the BARTable This Week weekly newsletter.